I usually don't like to talk about a single analyst's price target on a stock unless the situation is very dramatic. Well, that appears to be the case today with regards to Advanced Micro Devices (AMD). Just ahead of the chip company's earnings report, one street analyst reiterated a Sell rating on the stock and a $5 price target, implying that shares will lose two-thirds of their value from here. I don't see that happening.
Christopher Danely at Citi Research issued this note based on the release of Intel's (INTC) new line of processors "Coffee Lake". He sees this new Intel line extending its performance advantage over AMD while stating that AMD's Ryzen underperformed Intel's new chips by 20 percent. The analyst believes the performance gap will only widen in the future as AMD's next process won't be able to close the performance gap enough, allowing Intel to further expand its lead with its next release.
While this analyst sees AMD not being able to hold recent market share gains, the rest of the street sees a decent amount of growth coming. AMD is currently projected to see a more than 18% increase in its top line this year, with another low to mid double-digit gain next year. While the analyst sees AMD continuing to lose money, the name is very close to GAAP profitability. Further revenue gains should help operating income quite a bit, and any positive cash flow that reduces debt will cut down on interest payments.
If you were wondering, this analyst is definitely the most bearish on the street when it comes to AMD. The $5 price target is the lowest I can find, against an average of $14.60 if we exclude his rating, and a high of $22. According to TipRanks, this analyst has had a Sell rating on the stock since February 2015, a rating that was reiterated when AMD was at $1.79 per share. If you followed this recommendation, you aren't doing well. Apparently, though, there still are a number of non-believers, as short interest has recently risen to a new high seen below.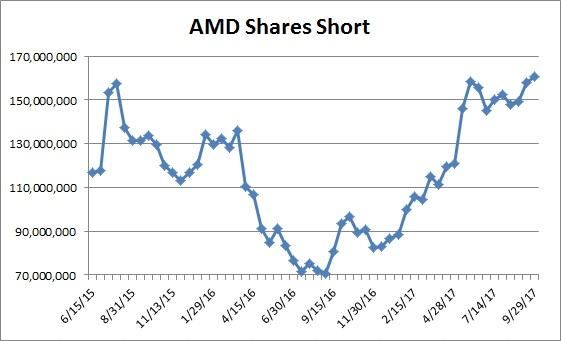 (Source: NASDAQ AMD short interest page)
While I'm not an expert when it comes to analyzing the technology involved in all of these chips, I do like to consider myself someone who's pretty good in analyzing financials. AMD has definitely turned itself around in recent years, highlighted by the revenue growth I mentioned above and the recent swing to non-GAAP profitability. The company also has shored up its balance sheet substantially in recent years, lowering its long-term debt and pushing maturity dates further out.
Perhaps the biggest disagreement I have with this analyst is valuation. AMD currently trades for 2.35 times expected 2018 sales, while Intel trades at 3.03 times. There are definite advantages for each stock – Intel offers a dividend and buyback along with more stability, while AMD offers more potential revenue growth and more potential earnings growth. But at the street low price target, you're talking about AMD trading at less than its projected sales for next year. That valuation seems to be ridiculously low, especially because if AMD even fell to the high single digits I think it would become a potential takeover target.
Shares of AMD are up more than 2% in Monday's early trading as overall markets hit new all-time highs. Apparently, the street isn't buying into the latest analyst note on the stock that calls for a plunge of roughly 65%. Citi Research has been bearish on this stock for a number of years, missing substantial gains in the process, so why should we believe them now? Even if Intel's latest chips are a bit better, AMD doesn't need to sell massive quantities to continue showing impressive revenue growth. Unless we see some major collapse to the overall market or some other doomsday scenario for the company, I can't envision a scenario anytime soon where AMD falls to $5.
Disclosure: I/we have no positions in any stocks mentioned, and no plans to initiate any positions within the next 72 hours.
I wrote this article myself, and it expresses my own opinions. I am not receiving compensation for it (other than from Seeking Alpha). I have no business relationship with any company whose stock is mentioned in this article.
Additional disclosure: Investors are always reminded that before making any investment, you should do your own proper due diligence on any name directly or indirectly mentioned in this article. Investors should also consider seeking advice from a broker or financial adviser before making any investment decisions. Any material in this article should be considered general information, and not relied on as a formal investment recommendation.