It is hard not to conclude the iPhone 7 was a flop when you compare its usage as a percentage of all iPhones to similar data for the two previous versions.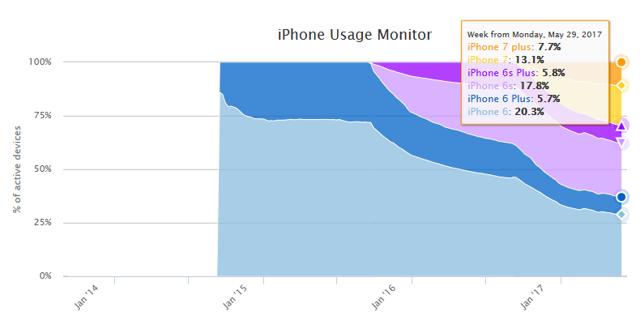 (Source: Fiksu.com)
Two years after its introduction, there remain more users owning the iPhone 6 and iPhone 6 Plus than either the iPhone 6S series or the iPhone 7. My conclusion is that the iPhone 6 met the market demand for a larger-screened iPhone, and its successors added little, if anything, of value. Had Apple (NASDAQ:AAPL) simply stayed with the iPhone 6 versions with minor tweaks, the picture would be about the same, as I see it.
Apple's hype is losing its impact. The iPhone is a great success for the company but has yielded gobs of market share to what has become serious competition from Samsung (OTC:SSNLF) and others, particularly in the key China market.
Apple touts Q1 2017 as a "strong quarter" despite shedding even more market share. In contrast, competitor Huawei has displayed exponential growth and now ships 140 million smartphones annually.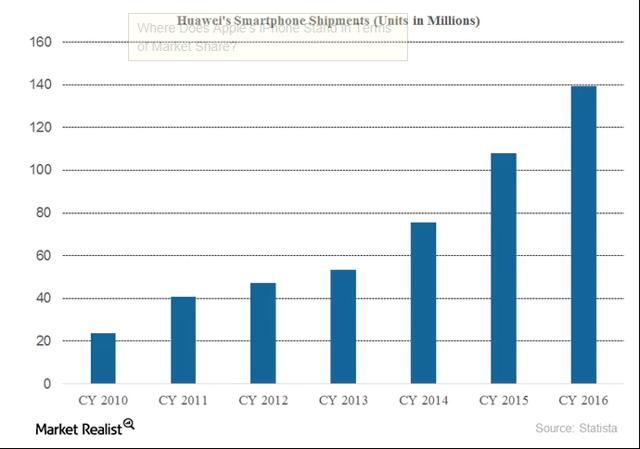 (Source: Market Realist)
In a market growing at a snail's pace globally, a worldwide competitor growing at high double-digit rates is a real threat. Sooner or later, Huawei may gobble up Apple's remaining foothold in Asia, while industry leader Samsung holds on to its well-earned number one position.
Apple points to its growing Services business as a source of future cash flows, but the success of that business is inexorably tied to the number of iPhone users. If that number begins to fall – as I believe it will – Services revenues will fall in lock step.
Tim Cook likes to tout Services as a major source of growth, comparing it to Amazon Web Services and to Netflix (NASDAQ:NFLX).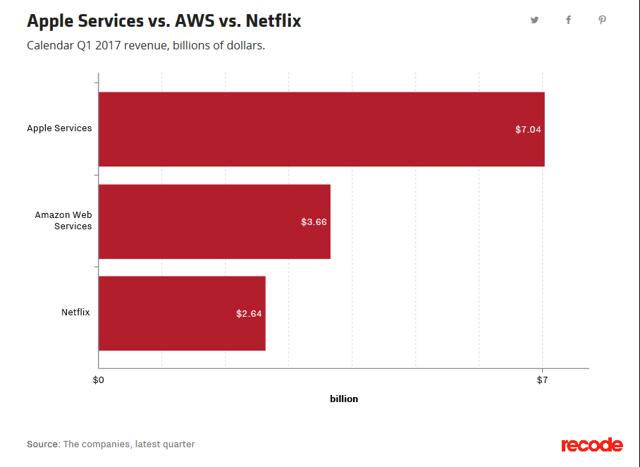 (Source: ReCode)
The comparison is fair in that Apple Services revenue grew by 18% in the first quarter. By comparison, Amazon Web Services grew 47% last year and Netflix grew 35%. If those growth rates persist, I expect Tim Cook will look elsewhere for comparisons to Apple's Services unit.
The fact is that Apple is tied to the iPhone, and its Services business will stall if the population of iPhone users stops growing. That seems likely unless the company can come up with some real innovation that prompts users from other platforms to switch to Apple.
With the company losing share, the switching going on is more or less in the opposite direction and may accelerate as more and more tools are built to make leaving the "walled garden" of Apple and switching to Android a painless experience.
In any event, AAPL stock is at all-time highs, yet the company's growth has stalled, and Apple reportedly is looking to higher prices for its next generation of iPhone to prop up profits. That "harvesting" of its customer base will work short term but not longer term as I see it. Instead, iPhone users will join hundreds of millions of others to find that the best Android phones outperform the iPhone on virtually every measure and that the iPhone offers no compelling advantage for its nosebleed price.
This is a good time to lighten up on Apple shares.
Disclosure: I/we have no positions in any stocks mentioned, and no plans to initiate any positions within the next 72 hours.
I wrote this article myself, and it expresses my own opinions. I am not receiving compensation for it (other than from Seeking Alpha). I have no business relationship with any company whose stock is mentioned in this article.