EPS upgrades now in
With Bank of America (BAC) achieving a new post GFC high, at least one SA commentator is asking whether enough is enough. What should investors do?
First things first. What is happening with market EPS forecasts? We see in the chart below that these have recently moved up strongly for 2018 and 2019 (blue and red respectively) by around 20% for both years. Much of this is related to tax reform. Analysts were waiting for the 4Q calls to react.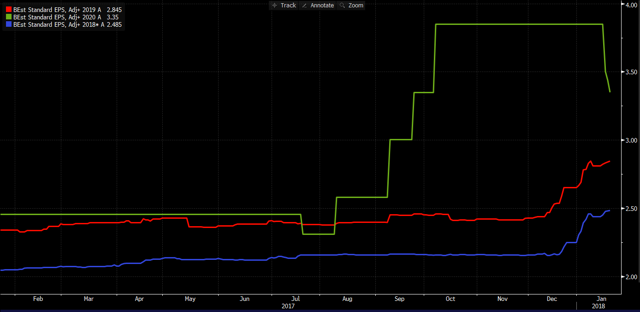 Source: Bloomberg
Tax reform at some level has been getting priced in since Trump's election victory in November 2016. However, the level of reform and the application were unknown until now so the move up in EPS expectations is a material positive for the stock. Where does it leave valuation? The answer is pretty 'unchallenged'.
Below we see that BAC 2020 is trading on 9.2x EPS (yellow).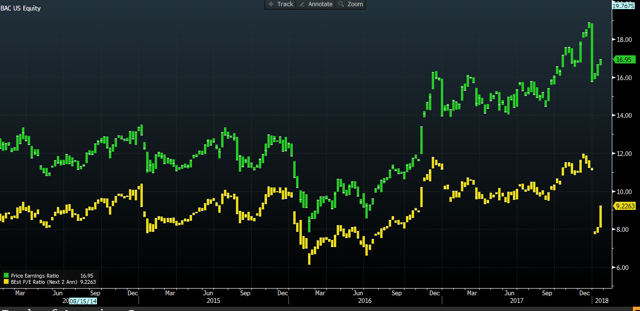 Source: Bloomberg
As a reference point for 2020, the current PE (for 2018) is 12.8x, a big discount to the S&P on 18.5x 18E. So minimally, investors can expect BAC to get to that kind of PE out in early 2020. Can it rerate? Can it derate? Sure, if the economy out- or underperforms expectations by a significant margin. There is currently no reason to expect this to happen.
4Q'17 feeds the bulls and denies the bears
Turning to the 4Q results, we see a bank that is in very good shape. The core driver at BAC is the deposit base, which continues to grow steadily.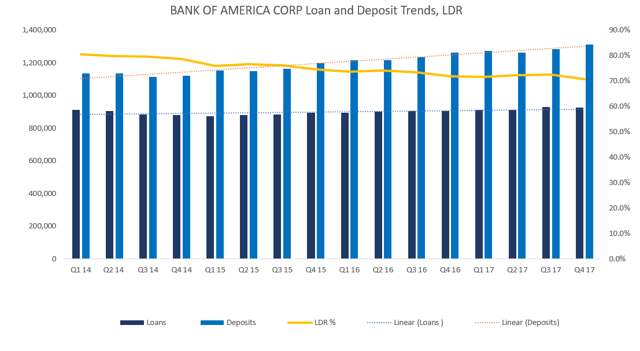 Source: Company Data
BAC's loan growth is flat, giving a more liquid balance sheet and indicating that credit quality pressures – should we enter a downturn (hardly a core scenario) – will remain contained. Indeed, there was further improvement in the legacy mortgage book in 4Q'17. Here's Paul Doniforio:

BAC made reference to the sector wide pressures on non-interest income in 4Q. This is worth considering. BAC is a very large bank with diverse revenue streams, so it's unlikely they will all move in the either direction together. And I'd argue that BAC was modest in its discussion of the subject. Core non-interest revenue at the bank remains in solid growth territory:

Source: Company Data
What this table tells us is that there's varied but solid growth across five out of eight non-interest income lines at BAC. The dip in mortgage banking is a big negative delta, as is the "other income" line. The latter is unlikely to repeat and we shouldn't worry about it ("others is by definition variable in either direction and the market tends to ignore it).
4Q trends in net interest income were extremely positive. Y/Y 4Q growth was 11% and FY Y/Y growth was 8.7% for 2017.
This reflects the deposit growth commented on above, which is a function of the healthy US (and global) economy and the beneficial effects of higher interest rates. We can expect 1Q'17 to drop slightly as lower card loans are a seasonal feature, but it will continue improving in 2Q'18.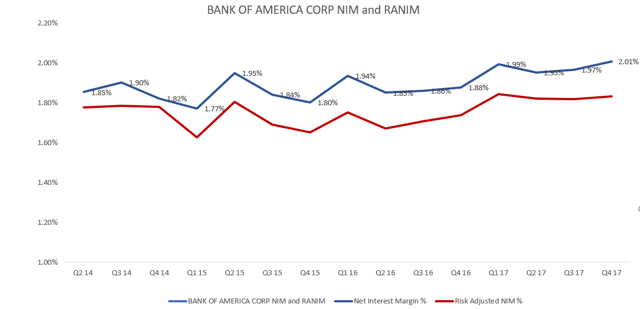 Source: Company Data
BAC's communication is also too conservative with regard to net interest income. BAC sold its UK card business last year, which will deprive the bank of about $0.5B of interest income in 2018. BAC described this as a "significant offset" to net interest income growth on the 4Q call.
What's eccentric about this comment is that it makes no mention of interest cost savings. In any case, $0.5B is slightly over 1% of net interest income for FY 2017 at BAC. With rate hikes and volume expansion supportive, and don't forget the operating cost savings from the UK card sale, I think the overall impact of this will be minimal for BAC.
Costs doing what they should
The market is likely to give BAC full credence now for its promises on cost control. We have closed nine quarters with better revenue than cost growth in this bank (prior quarters are excluded from emphasis in the chart below because the base was affected by one off cost items that dropped out).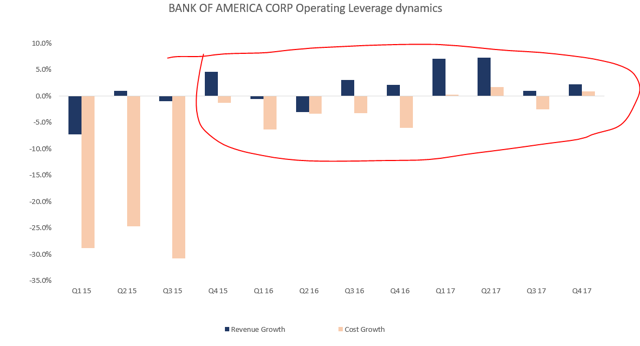 Core expenses were down 2% in 4Q. This is capable of driving double-digit growth in operating income at BAC. Given the solid economic backdrop and modest loan growth overall over the last few years, LLP charges provision expenses will remain contained as long as the macro holds, allowing this to drop through to the bottom line, ex tax effects.
Conclusion
Stick to the script. BAC's dramatic performance in interaction with its strong EPS outlook, which has now clarified at a higher level, leaves investors looking at a 10x PE out in 2020. So the story and the reasons to hold this improving bank remain exactly the same. If it ain't broke…
Disclosure: I am/we are long BAC.
I wrote this article myself, and it expresses my own opinions. I am not receiving compensation for it (other than from Seeking Alpha). I have no business relationship with any company whose stock is mentioned in this article.