Based in Little Rock, Arkansas, there's a mid-sized bank with a unique business model. It possesses a remarkable, long-term growth profile, outstanding banking metrics, and almost never underwrites a bad loan. What's more, the stock appears to trade at a significant discount to Fair Value.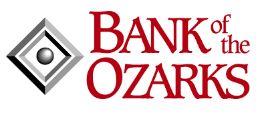 It's Bank of the Ozarks (OZRK).
An Overarching Thesis
Interest rates are moving up. Years of historically low rates are giving way to a Fed that's gradually tightening the short end of the curve. Long rates are responding in kind. Parallel rate increases represent a potential sweet spot for financial institutions; particularly the banks.
Bank of the Ozarks is a turbocharged play on this backdrop. If the business simply executes (and it has done just that for the past 20 years) investors are likely to reap solid rewards.
OZRK isn't expensive. Management is driven to succeed. Recent tax code changes provide an additional tailwind.
There's A Lot To Like About BotO
Under the leadership of veteran CEO George Gleason, Bank of the Ozarks has stood tall for over two decades. It's no flash-in-the-pan, hotshot newcomer. BotO withstood the 2008-09 banking crisis and hardly missed a beat.
Here's a shortlist of positive attributes:
Over the past ten years, EPS improved by 20% annually.
Return-on-equity and return-on-assets consistently are within the banking industry's top decile.
Net Interest Margin performance is top decile in the industry.
The bank is well-capitalized

. Common Equity Tier 1/RWA ratio is 11.2%; comfortably above Federal requirements.
The Efficiency Ratio is outstanding. A current 34.9% mark places the bank #2 among the top 100 largest banks in America. It's placed in the top ten in this category for 16 consecutive years.
The Net Charge-Off ratio is one-eighth of that of all domestic FDIC banking institutions.
The board of directors has increased the dividend for 30 consecutive QUARTERS. Since emerging from the Great Recession, the bank boasts a 24% annualized dividend growth rate.
But A Unique Business Model Requires Understanding
On the other hand, Bank of the Ozarks doesn't run a typical banking business model. It freaks out many traditional, buttoned-down banking stock investors. The corporate drumbeat is cited as "unsustainable," or "too risky."
Let's cover several of the hand-wringers:
The loan-to-deposit ratio is too high.
BotO's loan-to-deposit ratio runs ~93%. More conservative banks seek 50% to 70% markers. To be sure, Bank of the Ozarks' loan-to-deposit ratios ran hot before, during, and after the Great Recession. It's never been a problem, even during the depths of the recession. Indeed, it's integral to the business model.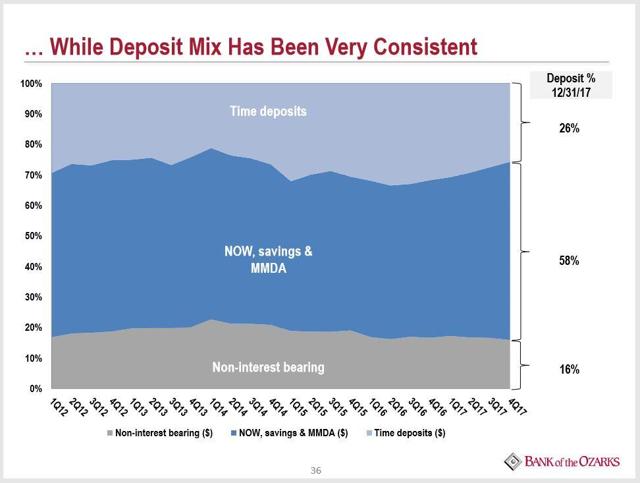 Source material: OZRK January investor presentation
Non-interest bearing deposits-to-total deposits is too low.
Traditional bankers say non-interest bearing deposits-to-total deposits should be greater than 30%. Bank of the Ozarks runs about 15%. Yet the institution maintains outstanding Net Interest Margins. Loans are heavily weighted to variable rate, and nearly all of these have floors. Yes, the bank pays more for deposits; and it routinely obtains above industry average loan yields, too. NIMs are consistently high. If long rates continue to move up, BotO is a major beneficiary.
The bank's loan book is too heavily concentrated into commercial real estate.
Perhaps the biggest bugaboo is the fact about two-thirds of the bank's loans are concentrated into CRE. BotO retorts it's done it this way for over 15 years, demonstrating excellent results. It's been core to the business model. The heavy lifting falls to special organization within the bank: the Real Estate Specialty Group (RESG). The organization focuses upon 4 factors. It's part of the "secret sauce":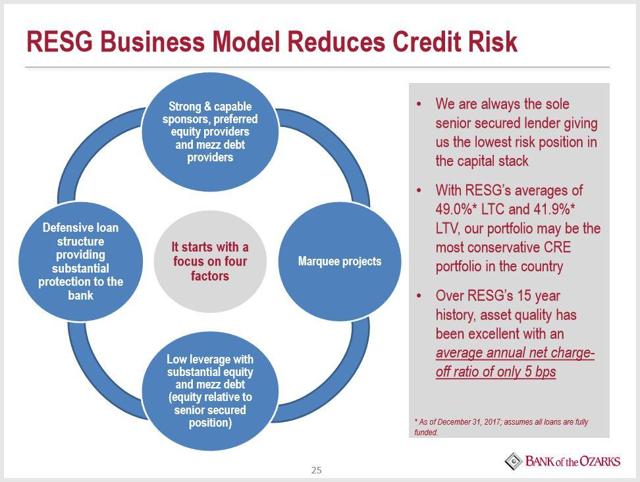 Adding color, year-end 2017 LTV (loan-to-value) is 42%, and the LTB (loan-to-cost) is 49%. Since 2009, these figures have been trending down.
Furthermore, in the event of loan re-payment problems, Bank of the Ozarks stands at the front of the line every time.
Looking forward, management plans to pare CRE loans to 57% of total loans.
In the event of a financial disruption, liquidity will become a problem.
Bank of the Ozarks' deposits strategy is a metric-driven operation.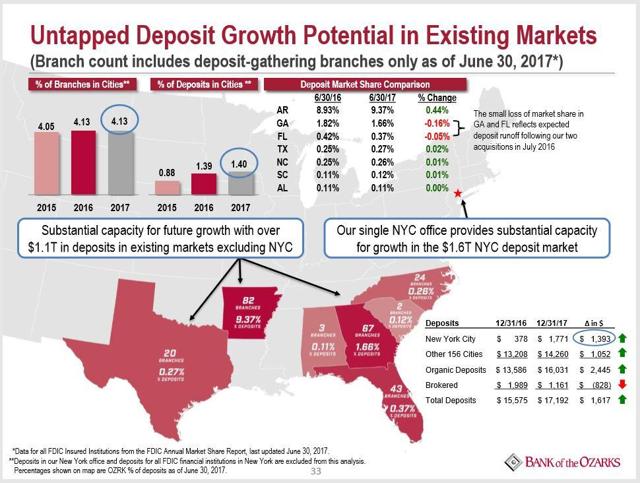 Indeed, the bank pays up for some "hot" money. In 4Q 2017, OZRK paid 83 bps for interest-bearing deposits versus 39 bps and 32 bps, respectively, for big brothers Wells Fargo (WFC) and Bank of America (BAC).
However, Bank of the Ozarks turns around and points to remarkable growth in customer checking accounts ("sticky money") and a sharp decline in more expensive brokered deposits.
Well aware of the implications of inevitable Fed tightening and intent to reduce a swollen balance sheet, in 2016 and 2017, BotO took steps to ensure its own liquidity.
OK, I'm Convinced. So What's the Value Proposition?
Bank of the Ozarks' shares aren't expensive. Meanwhile, the earnings track record is outstanding and Street forecasts are strong. Valuation methodologies suggest shares are trading below Fair Value.
First, let's looks at a 20-year F.A.S.T. graph illustrating price-to-book multiples: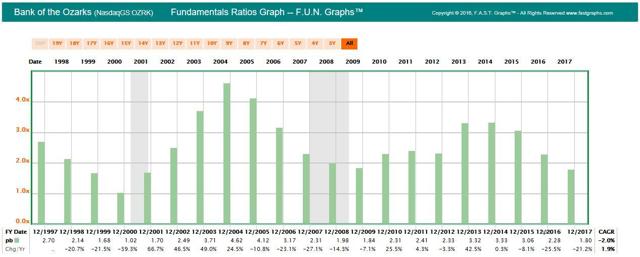 courtesy of fastgraphs.com
OZRK stock is now trading at the low end of the range, despite record 2017 results.
Since year-end 2009, the trimmed average P/B is 2.5x. The current price-to-book is 1.8x. Meanwhile, through the same period, management grew book value by 27% a year.
Current book value/share is $26.98. Just a 2x multiple on last year's equity yields a $54 stock. A 2.5x multiple suggests a $67 valuation.
Let's turn to price-to-earnings. Another FAST graph is instructive: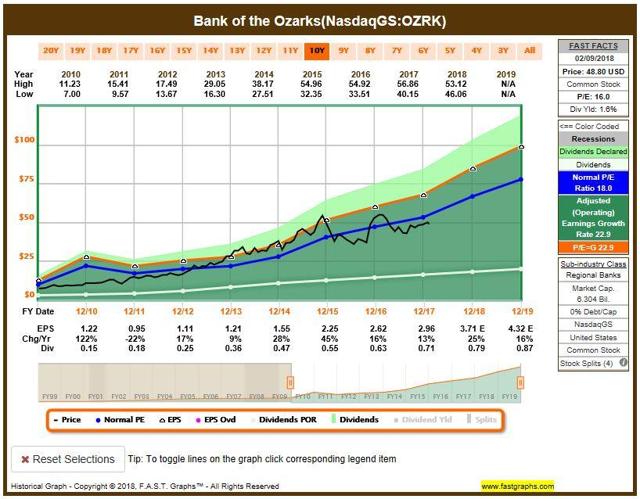 The post-Great Recession chart shows an 18x trimmed average P/E. Operating earnings growth averaged nearly 23% a year.
Looking forward, another F.A.S.T. graph indicates a robust, 2-year ~21% EPS growth rate.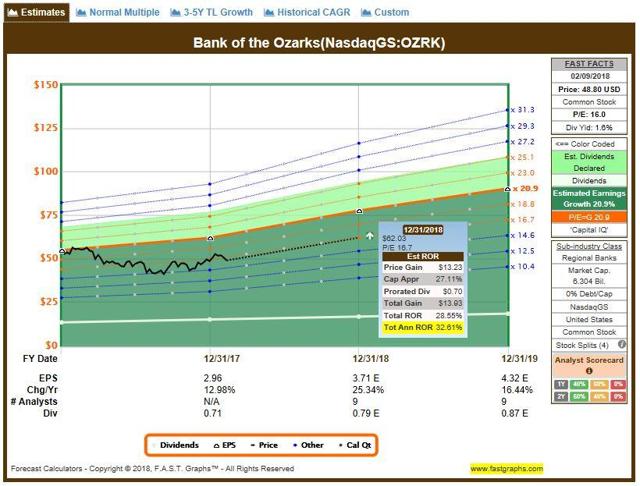 2018 is expected to be a good year; the recent Tax Act amplifies the forecast. Presuming a modest 16.7x P/E (thereby adding a factor of safety) on projected 2018 operating EPS offers a $62 stock and some very nice potential returns. The growing dividend adds gloss.
The PEG2 ratio is 0.8x. Not bad.
Importantly, bank management has a propensity to set Street expectations and bring it home, too. Over the past several years, we find OZRK missed no consensus analyst forecasts. Generally, senior leadership charts a steady course; neither falling short nor blowing out the estimates.

Courtesy of ameritrade.com
I place ~$63 current FVE on Bank of the Ozarks shares. A recent $49 closing price suggests within 18 months the stock offers a 25% to 30% total return upside.
Integral to the narrative: At 30 years old, CEO George Gleason took control of Bank of the Ozarks. The man has been running the show for 39 years. He's not planning to, or expected to go anywhere soon. He's steered the bank through the good times and bad. His record is consistent, disciplined, hard-nosed, and ambitious.
I believe management makes a difference; for this author, it's a major investment consideration. George Gleason and Bank of the Ozarks gets results.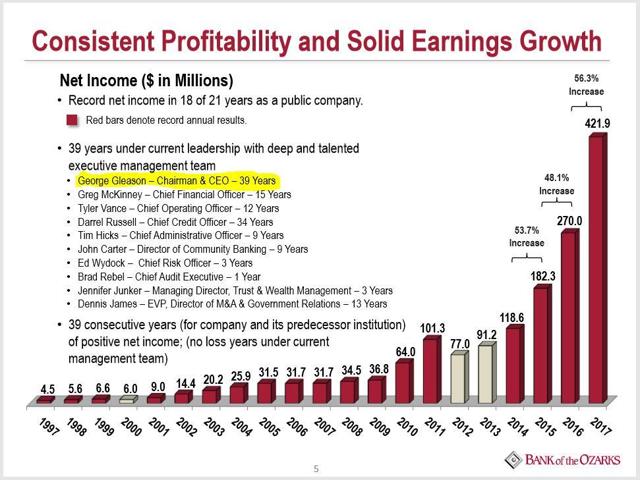 I contend OZRK is a bank stock worth investors' consideration; it's the right kind of bank, in the right time in space.
Please do you own careful due diligence before making any investment decision. This article is not a recommendation to buy or sell any stock. Good luck with all your 2018 investments.
Disclosure: I am/we are long OZRK.
I wrote this article myself, and it expresses my own opinions. I am not receiving compensation for it (other than from Seeking Alpha). I have no business relationship with any company whose stock is mentioned in this article.