If you think things will keep getting better for China's biggest banks, look no further than China Construction Bank Corp.
Goldman Sachs Group Inc. and Morgan Stanley are among at least 16 brokerages that have raised their target prices for China's second-largest bank this year. Institutional investors including BlackRock Inc. and Invesco Ltd. have recently increased their CCB holdings, data compiled by Bloomberg show.
"CCB is my top pick," said Marco Yau, a senior analyst at CEB International Investment Corp. "Among all major Chinese banks, CCB has been the one delivering good results time after time."
Shares of China's four biggest banks have rebounded since late 2017 as economic growth accelerated and investors bet they will cope better than their smaller rivals with the government's crackdown on excessive debt. CCB's financials are "trending the best," thanks to its strong deposit franchise, widening loan spreads, conservative handling of bad debts and higher capital ratios, according to Morgan Stanley.
Most Favored
All except one of the 30 analysts tracked by Bloomberg who follow CCB recommend buying the stock and none say sell, giving the lender a consensus rating of 4.87 out of 5. By contrast, only 22 of 29 recommend buying Industrial & Commercial Bank of China Ltd., the nation's largest lender.
Shares of CCB may rise 19 percent in the next 12 months to HK$10.03 in Hong Kong, according to a consensus price target compiled by Bloomberg. CCB and ICBC are currently trading slightly above the value of their net assets, while Bank of China Ltd. and Agricultural Bank of China Ltd. remain below book.
CCB trades at 6.5 times estimated forward earnings per share, more than the 5.5 times two-year historical average, according to data compiled by Bloomberg.
The bank's return on equity was 16.5 percent as of last September, the highest among the top four banks. Its net interest margin may expand 12 basis points by the end of next year, more than the estimated 8-point increase by ICBC, Morgan Stanley analysts including Richard Xu wrote in a report last month.
CCB has been setting aside more money for soured debts than required, giving it further room for earnings growth. The bank's allowances rose to about 163 percent of nonperforming loans in the third quarter, higher than the official 150 percent requirement. Its bad-loan ratio was 1.5 percent as of September, lower than the industry average of 1.74 percent.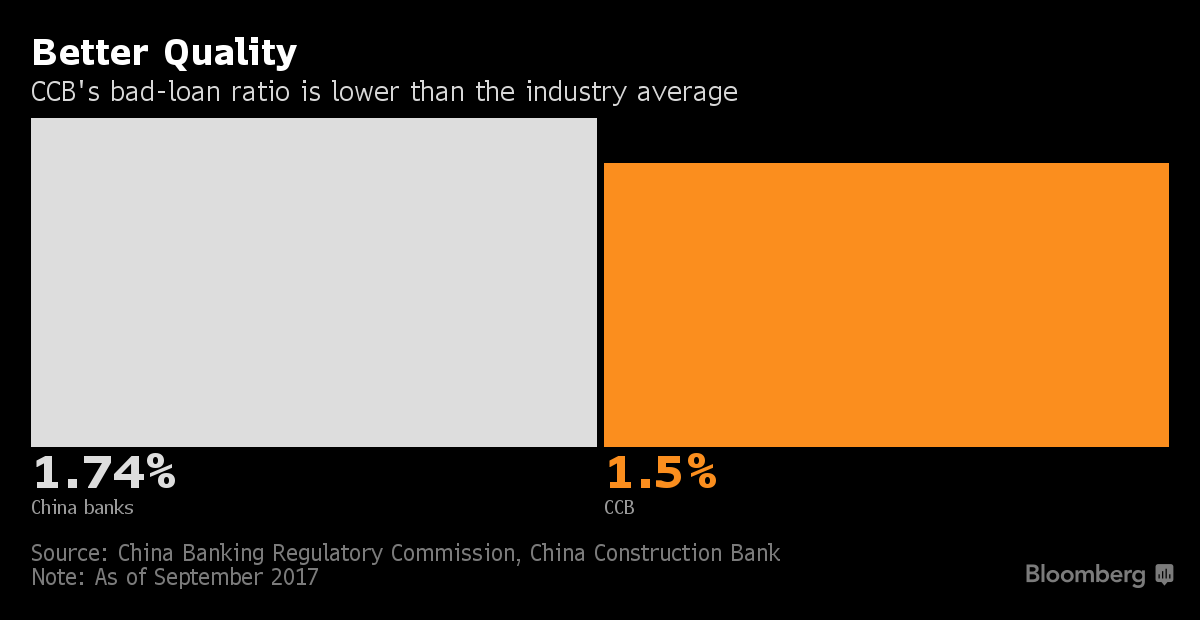 Shares of CCB rose 21 percent in Hong Kong last year, less than the 35 percent increase at ICBC. CCB shares trading in Hong Kong are about 29 percent cheaper than those in Shanghai — a bigger discount than the 24 percent at its largest rival.
"CCB is a better bet because of the bigger disparity," said Alex Wong, director of asset management at Ample Capital in Hong Kong, which manages $170 million and owns the stock. "Mainland investors would find the bank even more attractive because it's cheaper here."