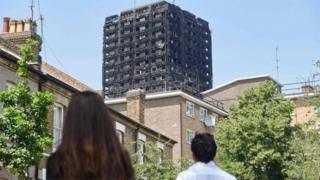 Swansea Council is testing cladding in seven of its 11 tower blocks as a safety precaution in the wake of the Grenfell Tower fire, it has emerged.
The Welsh Government has urged councils to conduct fire safety tests on cladding if they want to.
UK ministers have ordered social landlords in England to test tower block cladding.
A total of 75 buildings in England had failed fire safety tests since the request was made.
The Welsh Government said last Friday that it was urging social landlords to have samples of cladding tested.
Following that development, BBC Wales has asked Welsh Government how many blocks are being tested, have now been tested, where those blocks are, and whether the Welsh Government was compelling councils to get cladding tested.
A response from the Welsh Government suggested that the request was voluntary – in contrast with England.
The UK Government's Communities Secretary Sajid Javid has ordered councils across England to test cladding if it is made of Aluminium Composite Material (ACM) – although Welsh Government says the type of cladding used in the Grenfell Tower was not present in any Welsh social housing stock.
A Welsh Government spokeswoman said: "The Cabinet Secretary [for communities, Carl Sargeant] has urged local authorities who want to test cladding to do so.
"Swansea Council has decided to test cladding from seven of its 11 tower blocks as a precautionary measure in order to provide further reassurance to tenants, and awaits the results."
Wales has 36 blocks of flats of seven or more storeys that are used for social housing.
Nine tower blocks in Wales over ten storeys are run by housing associations.
Community Housing Cymru, which represents the housing association sector in Wales, said Welsh Government has recommended that all cladding is tested.
Welsh Government offered housing associations the opportunity and support for testing last Friday at the same centre where the procedure is taking place in England – the Building Research Establishment.
'Encouraging to test'
Stuart Ropke, chief executive of CHC, said: "It is difficult to imagine the impact that the horrific fire in Grenfell Tower has had on residents and the loved ones of those who lost their lives.
"CHC is working with members to ensure that every step is being taken to prevent anything similar happening in Wales and to reassure tenants.
"We have been working very closely with our members and Welsh Government to gather information on our members' stock.
"We can confirm that no tower block owned by a Welsh housing association has been fitted with the type of cladding used in Grenfell Tower.
"We are also encouraging members to use the Welsh Government's testing service for all tower block cladding to ensure that it passes fire safety tests."
Cardiff council, which has nine high-rise blocks of which several were over-clad in the 1990s, is currently using an independent contractor to conduct a survey.
Indications so far are that its own cladding is made up of fire retardant materials, such as Rockwall. The survey will include an analysis of the make-up of materials used, and if anything is needed checking, samples will be sent for checking.
A Cardiff spokesman said: "The council has not carried out any over-cladding work to any of its high rise flats in recent times.
"The buildings are clad with traditional, fire retardant material.
"The council will of course be reviewing arrangements for future schemes to ensure the safety of all tenants."
Cladding is also being checked at Singleton Hospital in Swansea.