Bank of America's Q4 2017 (NYSE: BAC) earnings report was generally positive, although not extraordinary or spectacular. However, given Bank of America's current business model as a steady and stable bank highly reliant on borrowing and lending, Q4 was what generally a positive and stable quarter looks like.
Given even more upcoming tailwinds this year from the Federal Reserve and its rising interest rates, Bank of America likely will continue to see mild growth particularly given its large and growing deposit and loan base.
Borrowing And Lending Remain Bank of America's Stable Foundation
Bank of America's Q4 earnings show that the bank's asset and loan base are stable, growing, and increasingly high quality as the percentage of non-performing loans decrease both on the consumer and commercial side.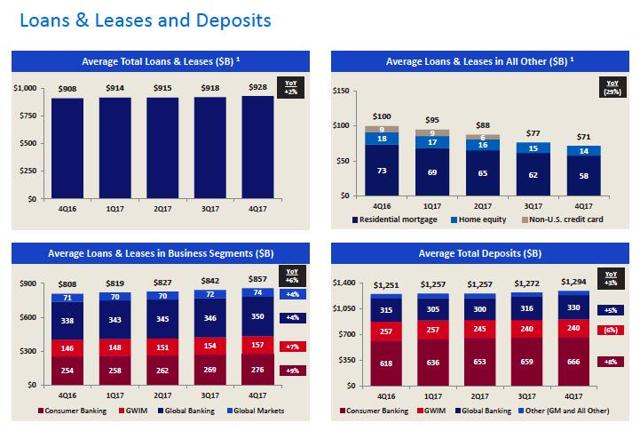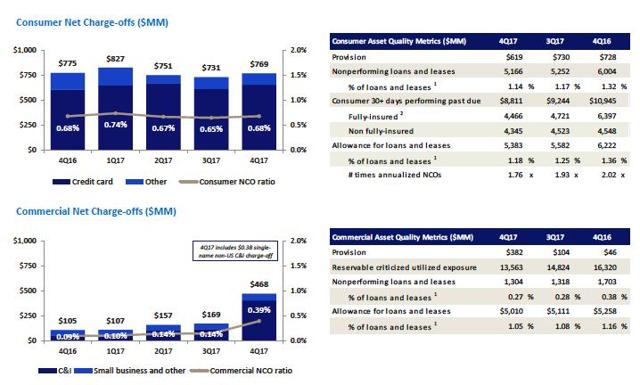 (Source: Bank of America Q4 2017 Earnings)
This stable deposit and loan base provides multi-faceted benefits for Bank of America. The first is that the deposits and loans are relatively stable and non-volatile sources of revenue and a particularly large part of Bank of America's bottom line.
For example, Bank of America's Q4 2017 earnings contributed over $8.954 B to the bank's overall Q4 revenue (excluding the deferred tax asset hit from the tax reform legislation) of $21.4 B, or roughly 42%.
The retail banking division's steady growth amid stable expenses, of which Q4 2017 only continued, continues to provide a stable and highly diversified revenue base that gives the bank a stronger floor against revenue slowdown or decrease.
This is particularly so compared to many other banks that are reliant on far more volatile sources of revenue, such as Goldman Sachs' (NYSE: GS) recent quarter with its bounce in investment banking but collapse in bond trading.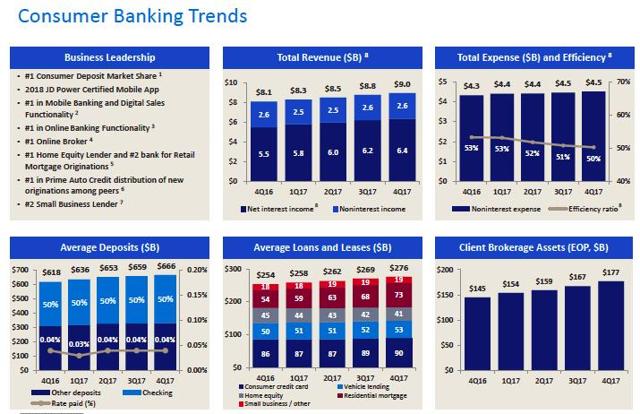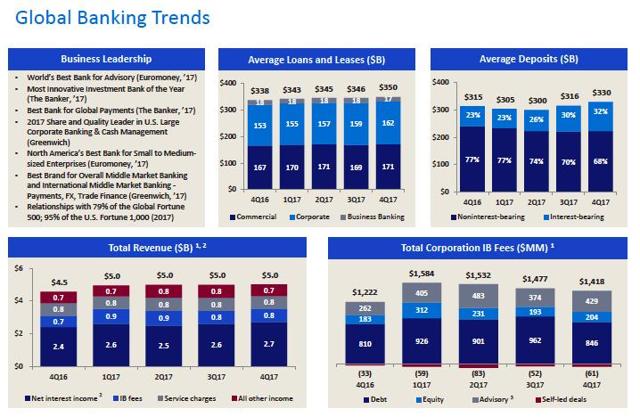 (Source: Bank of America Q4 2017 Earnings)
For example, Goldman suffered a significant decline in bond trading revenue from $7.556 B in 2016 to $5.299 B in 2017. As compared to overall net revenue of $30.608 B in 2016 and $32.073 B in 2017, bond trading revenue declined as a percentage of overall trading revenue from 24.69% to 16.52%.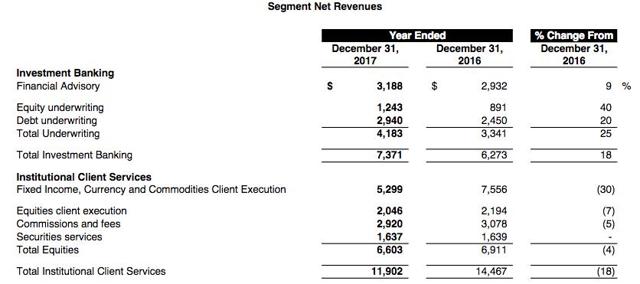 (Source: Goldman Sachs Q4 2017 Earnings and Annual Report)
The annual decline in bond trading revenue amounted to an overall massive $2.257 year-on-year decline.
In contrast, Bank of America also suffered a decline in bond trading amid the historically low volatility environment for bonds. However, Bank of America's bond trading decline this year was roughly $708 million, having declined from $9.373 B in 2016 to $8.665 B in 2017.
However, for Bank of America, the trading revenue decline was far less impactful on the bottom line, given that in 2016, Bank of America brought in $83.701 B in revenue and in 2017, it brought in $87.352. Bond trading revenue declined from only 11.198% of revenue in 2016 to 9.919% in 2017.

(Source: Bank of America Q4 2017 Earnings)
Bank of America suffered what amounted to a small and limited bond trading decline on both an absolute and proportional level, given Bank of America's far greater revenues and the lesser importance of bond trading revenue.
Essentially, this means that Bank of America has a far more diversified revenue base than Goldman, given the significantly lower proportion of bond trading to overall revenue, and is not as reliant on as volatile a revenue stream as bond trading.
This diversification has shielded Bank of America from significant earnings damage due to the recent decline in bond volatility.
A Rising Interest Rate Environment Means Bank of America Is Especially Poised For Growth
Another major benefit of Bank of America's large and growing deposit-loan revolving door is that it has benefited from rising interest rates and stands poised to gain even more as the Federal Reserve plans three 0.25% interest rate hikes for this year, with the economy's strength potentially leading the Federal Reserve to increase rates even further.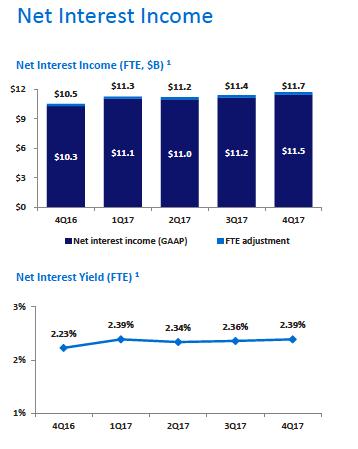 (Source: Bank of America Q4 2017 Earnings)
Bank of America estimates that a 1.00% increase in overall rates will boost net interest income by over $3.3 B over the next year. Based on Bank of America's overall net interest income of $44.467 B in 2017, that would mean a net interest income of at least 7.42% to $47.767 B. This is not even accounting for continued net interest income growth due to increasing deposits and loans.
Furthermore, Bank of America has seen an increasing overall net interest yield from 2.25% in 2016 to 2.37% in 2017 with a steadily increasing trend that continued in Q4.

(Source: Bank of America Q4 2017 Earnings)
Bank of America's 2017 borrowing-and-lending business saw a profit margin of roughly 77.575%, a small decline from its 2016 profit margin of 80.49% due to a slightly faster increase in interest expense compared to interest income.

(Source: Bank of America Q4 2017 Earnings)
Nonetheless, with financial institutions able to loan at a higher place on the yield curve while not having to raise deposit rates as fast, the interest rate hikes are likely to bolster Bank of America's overall bottom line quite well.
Bank of America's 2017 interest income, net of interest expense, of $44.667 B accounted for over 51.1% of its $87.352 revenue. Given how large interest income is for Bank of America's revenues, the increase in interest rates will likely both boost Bank of America's earnings over the next year significantly as well in a stable and predictable way given the significantly lower risk of the borrowing-and-lending model.
Conclusion
Bank of America had a relatively strong quarter that showed steady growth in deposits, loans, and interest income, as well as a cushioned decrease in bond trading that was far better than some other peer institutions.
Amid continued steady asset and loan growth as well as a Federal Reserve looking to possibly lean slightly hawkish on raising rates, Bank of America is poised to see a significant boost in net interest income over this upcoming year.
This increase in net interest income is likely to have a major positive impact on the bank's earnings, given both how large interest income is proportionally to the bank's overall revenues and earnings as well as it being a relatively stable source of revenue and growth.
Disclosure: I am/we are long KBE.
I wrote this article myself, and it expresses my own opinions. I am not receiving compensation for it (other than from Seeking Alpha). I have no business relationship with any company whose stock is mentioned in this article.