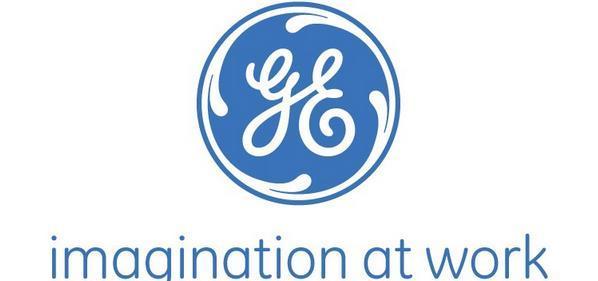 General Electric (GE) buried investors in bad news last week when the industrial company reported third quarter earnings that came in way below expectations. General Electric not only slashed its earnings forecast by a significant margin, but also guided for more asset sales. Uncertainty over General Electric's dividend is likely to do more damage to the company's stock price over the short haul.
It was not a good day for General Electric last Friday, and it certainly wasn't a good one for GE shareholders. The industrial company reported earnings that came in way below expectations, though revenues came in above consensus. General Electric said it earned $0.29/share in the quarter ending September which was significantly below consensus profit expectations of $0.49/share. The large profit miss was a big driver of volatility for GE's shares which slumped as much as 6 percent on Friday.
General Electric's revenues, on the other hand, beat the consensus revenue estimate of $32.6 billion. GE's consolidated revenues increased 14 percent year-over-year to $33.5 billion thanks to a robust performance in Aviation, Healthcare, and Renewable Energy.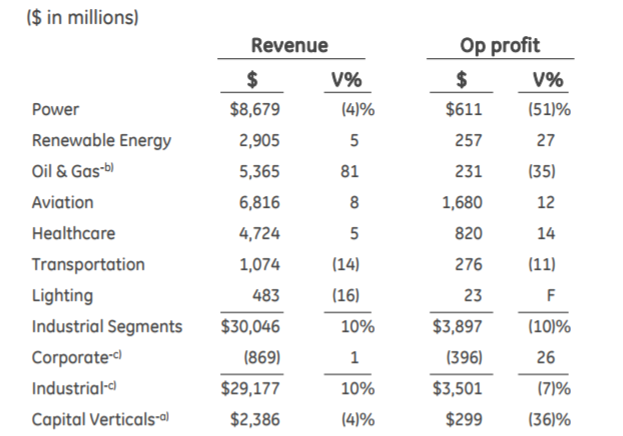 Source: General Electric
If the large earnings miss wasn't enough, General Electric also cut its profit forecast for the year, something that investors already expected in the days leading up the earnings report. Management now expects the company to pull in adjusted profits of $1.05-$1.10/share in 2017, which is down sharply from its previous guidance of $1.60-$1.70/share. The estimate was for $1.54/share full-year EPS.
Can Asset Sales Save The Day?
General Electric acknowledged that it needs to improve free cash flow, but deferred making a decision on its dividend. John Flannery will most likely make a dividend announcement in November when he will give an investor presentation laying out GE's strategic game plan for the future.
What GE's CEO did announce, though, was that he plans to shed $20 billion worth of assets in the next two years in order to further streamline GE's large industrial portfolio. Asset sales would have the convenient side effect of boosting General Electric's cash flow, and could help sustain the dividend…If that's what GE wanted. $10 billion in asset sales per year over the next two years would certainly cover the approximately $8 billion in dividends that the industrial company pays…And General Electric wouldn't even have to use its GE Capital cash flow.
In my opinion, GE will want to find a sensible balance between improving free cash flow (conserving cash) and not upsetting shareholders with a massive dividend cut. A dividend cut of ~25 percent, for instance, could be a compromise as it would relieve cash flow by approximately $2 billion a year while shareholders still get a decent quarterly cash dividend of ~$0.18/share. That said, though, a dividend cut is virtually a certainty now that General Electric officially put its dividend policy up for discussion ("deferred dividend action").
How Low Can It Go?
I think the 'deferred dividend action' will hang over General Electric's shares for a while longer and it isn't doing GE shareholders any favors.
General Electric's shares have lost a quarter of their value this year and they are now selling close to their 52-week low @$22.10.
Source: StockCharts.com
As long as shareholders have no certainty about what's going to happen to the dividend, General Electric's shares will likely continue to languish.
Investors have had more than enough time to bake a dividend cut into General Electric's valuation by now, but additional downside exists nonetheless, especially when management decides to give its dividend a bigger-than-expected haircut.
Considering that management has not yet presented a credible plan as to how it will improve GE's free cash flow moving forward and investor sentiment is the most bearish in years, I am afraid shares could trade another 10-15 percent lower and settle somewhere in the $20-21 price range before things get better. A driving catalyst for yet another move lower could be stock downgrades and target price adjustments after Friday's terrible earnings release. The best course of action right now, I guess, is to wait on the sidelines until General Electric updates shareholders about its future dividend in November.
Your Takeaway
General Electric's third quarter earnings were a complete disaster. The industrial company widely underperformed earnings expectations, slashed its guidance and deferred dividend action. Further, General Electric resorts to selling more assets in order to simply its core industrial portfolio and improve cash flow, which won't be enough to regain investor trust. While asset sales could support General Electric's dividend, investors need to see a clear path forward for the company, and that includes dividend visibility. I still see General Electric as a long term buy (especially at a time when investors are fearful) but believe a complete lack of positive catalysts makes it highly unlikely that shareholders will see any significant price appreciation in the near term.
If you like to read more of my articles, and like to be kept up to date with the companies I cover, I kindly ask you that you scroll to the top of this page and click 'follow'. I am largely investing in dividend paying stocks, but also venture out occasionally and cover special situations that offer appealing reward-to-risk ratios and have potential for significant capital appreciation. Above all, my immediate investment goal is to achieve financial independence.
Disclosure: I am/we are long GE.
I wrote this article myself, and it expresses my own opinions. I am not receiving compensation for it (other than from Seeking Alpha). I have no business relationship with any company whose stock is mentioned in this article.