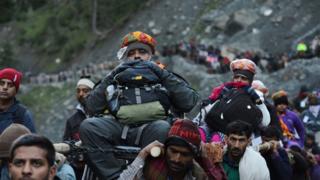 Six Hindu pilgrims, five of them women, have been killed in a militant attack in Indian-administered Kashmir after their bus apparently got caught in crossfire.
The bus is understood to have been returning from the Amarnath Cave pilgrimage site when militants launched an attack in Anantnag district.
It is thought the target was vehicles at a counterinsurgency base.
The attack, which also left at least 12 wounded, could raise tensions.
Hardline Hindu groups linked to Prime Minister Narendra Modi's ruling party have long wanted to see tough action against the armed revolt against Indian rule in the Muslim-majority region.
Mr Modi tweeted: "Pained beyond words on the dastardly attack on the peaceful Amarnath Yatris (pilgrims) in Jammu and Kashmir.
"India will never get bogged down by such cowardly attacks and the evil designs of hate."
However, a police source told the BBC the attack did not appear to be aimed at the bus.
A coalition of Kashmiri separatists has condemned the attack, and no militant group has claimed it.
The attack comes after some hardline separatist leaders said they welcomed the pilgrims – about 100,000 of whom have already completed the journey – as their fight is not with ordinary Indians.
Another police source told the BBC the bus was not properly registered, and should have been off the road by the time of the attack, at 20:20 local time (14:50 GMT) on Monday.