Follow @Brexit for all the latest news, and sign up to our daily Brexit Bulletin newsletter.
The world is still waiting to know what Theresa May meant when she first uttered "Brexit means Brexit " fifteen months ago.
The British prime minister's soundbite is a statement of the obvious but it's proved hard to deliver. She's not only at odds with European Union negotiators, but also with members of her own Conservative Party and perhaps even most of the electorate on what life on the outside will look like and what it will cost.
On Friday she heads to Florence, the capital of 15th-century European trade and finance, to clarify her vision and breath life back into gridlocked talks.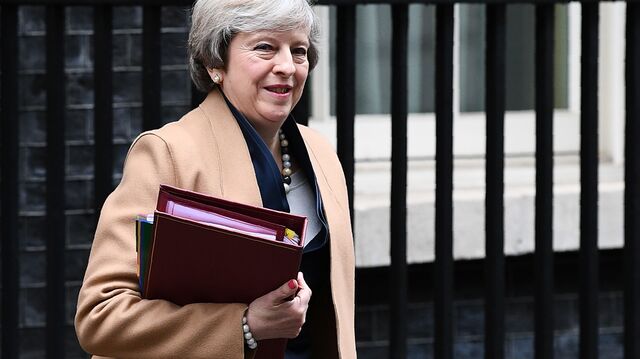 She will speak eight months since she first Brexit outline in an address at London's Lancaster House and six months after she triggered Article 50 of the Lisbon Treaty that started the clock on two years of talks. June's disastrous election forced a rethink and a series of position papers came in its wake.
Here are key issues and how the U.K.'s stance has evolved since January:
About that transition
At Lancaster House, May said "it is in no one's interests for there to be a cliff-edge for business," but that "permanent political purgatory" was unwelcome too. She suggested a "phased process of implementation" of whatever deal the two sides had agreed.
Since then, the government has come around to a post-Brexit transition with Chancellor of the Exchequer Philip Hammond leading the charge. He advocates a "status quo" phase with continued access to the single market and customs union.
Others would prefer a bespoke plan and there are questions over the length of transition. Hammond advocates three years as do businesses, but Trade Secretary Liam Fox and Foreign Secretary Boris Johnson prefer a quicker break.
But nothing comes for free
Then there is the matter of the price. The EU has said "should a time-limited prolongation of Union acquis be considered" the U.K. must accept its rules for the duration including free labor movement.
There could be a financial price with May declining to deny she will offer to cover the 10-billion=euro ($12 billion) hole Brexit will open up each year in the EU's budget. Foreign Secretary Boris Johnson has signaled discomfort with that, but might back May.
If nothing else, talk of a transition has undermined May's threat of January that no deal is better than a bad deal although the warning is still made from time to time. Hammond has called that scenario a "very bad outcome."
The bill to settle

The signature sticking point of the talks is the financial settlement the EU wants the U.K. to pay.
Several sums have been bandied about — up to a gross 100 billion euros was the figure circulating before the summer — but Britain has been largely silent on what it's willing to pay or even how the bill should be structured, much to the EU's irritation.
The Lancaster House address said "we will not be required to contribute huge sums to the EU budget" and that "the days of Britain making vast contributions to the European Union every year will end."
March's Article 50 letter was more diplomatic. "We will need to discuss how we determine a fair settlement of the U.K.'s rights and obligations as a departing member state, in accordance with the law and in the spirit of the United Kingdom's continuing partnership with the EU."
This week she added more room for maneuver by saying payments wouldn't go on "year on year on year."
What is fair?
By July the government was saying it would work with the EU "to determine a fair settlement of the U.K.'s rights and obligations as a departing member state" and that it recognizes there are obligations that "need to be resolved."
Johnson didn't help matters by declaring in July that the EU could "go whistle" if it wanted a large settlement, before conceding on August 25 that "of course we will meet our obligations."
May has always said there may be some specific European programs she is willing to subscribe to, but does that also mean paying for trade?
Brexit Secretary Davis and Hammond have suggested an openness to doing that, but Johnson wrote in the Daily Telegraph on Sept. 16 that "we would not expect to pay for access to their markets any more than they would expect to pay for access to ours."
Taking back control
In January, May declared Britain would reclaim "control of our own affairs" and "bring an end to the jurisdiction of the European Court of Justice." The Conservative election manifesto also pledged to ensure "control of our own laws."
However, on Aug. 23 the government introduced some wiggle room by saying it was only averse to "direct" jurisdiction and would accept a "close cooperative relationship" with the ECJ, perhaps realizing it needed to give some ground to secure a trade deal.
It said it would be open to monitoring EU case law, abiding by past ECJ rulings, taking future ones into account, and even referring decisions to it. It maintains this would still deliver on the promise to take back control.
The ultimate prize
For Britain, it all comes down to trade.
In January, May characterized the referendum result as "a vote to leave the single market." She said she also wanted to leave the customs union, but forge a new customs agreement that still allowed the U.K. to seal trade deals with other.
On Aug. 15, the government fleshed out its plan for customs arrangements, saying it's keen to maintain something akin to membership of the union for an interim period and then find a way to enjoy tariff-free, bureaucracy-light commerce afterwards.
The government continues to talk of "the freest and most frictionless possible" just outside the single market.
Brexit Secretary David Davis said on Sept. 7 that he had given "considerable thought" to joining the European Free Trade Association after Britain leaves the EU before discarding it.
All about the timing
May initially bet a trade deal could be reached "by the time the two year Article 50 process has concluded."
This looked fanciful to most given Canada took seven years to secure a less sweeping accord. Fox acknowledged in July it would be an "optimistic view" although he said striking a pact would be "one of the easiest in human history" given four decades of trade ties.
Davis later expressed optimism that the U.K. and EU could still strike a trade deal by Brexit.
In order or in tandem?
When invoking Article 50, May said "it is necessary to agree the terms of our future partnership alongside those of our withdrawal from the European Union."
Davis predicted scheduling would be the "row of the summer" only to backtrack in June by singing up to the EU's timetable in which the divorce is arranged first before a future relationship is discussed. He then reversed himself again, but the EU has refused to budge.
Soft or Hard Borders
May's language on the border between Northern Ireland and the Republic of Ireland has been relatively consistent. In her Lancaster House speech she said she wanted to maintain the Common Travel Area, a special border-free zone made up of the U.K., Ireland, the Channel Islands and the Isle of Man.
On trade, she wanted cross-border trade to be as frictionless as possible. A couple of weeks later, after meeting then-Irish Prime Minister Enda Kenny, May said she was aiming to maintain a seamless and frictionless border on the island of Ireland.
In the U.K.'s position paper on Ireland in August, Britain used very similar language, fleshing out proposals to maintain as "seamless and frictionless border" as possible.
How to curb immigration
At Lancaster House, May said "Brexit must mean control of the number of people who come to Britain from Europe. And that is what we will deliver."
In April she left open the possibility that freedom of movement could be part of a transitional agreement. Officials have also repeatedly said Britain's doors will remain open to skilled foreigners.
In September, the Guardian reported a leaked Home Office report which said free movement of labor would end immediately after Brexit and clamp down on the flow of those without skills. The government called it a draft and denied it was policy.
But where does that leaves EU citizens?
At Lancaster House, May spoke of a deal being an "important priority" to be resolved "as soon as possible." By March she was saying "we should aim to strike an early agreement about their rights."
But there has been no pact. Sticking points include the EU's complaint that May's first pitch risked costing its people rights as well as its demand the ECJ have some oversight.
Security cooperation after all the terror attacks
May appeared to link security provisions to a trade deal in her Lancaster House address. In invoking Article 50, May warned of a "weakened" security regime if the U.K. left without a deal. Five terror attacks this year on her watch will have an impact on how she views security now.
The rhetoric of late has focused on seeking continued cooperation in this area, saying in September it would keep supporting EU military operations as part of a "deep security partnership."
What's changed
May said in January she had no interest in "anything that leaves us half-in, half out. We do not seek to adopt a model already enjoyed by other countries. We do not seek to hold on to bits of membership as we leave."
Since then though position papers have suggested the U.K. would like a lot of what it currently has. It wants close relations on legal matters, data processing, policing and science.
So does Brexit means Brexit mean leave things as they are?