Investors have good news ahead. The economy has been showing real growth. Ratios reflective of underlying economic characteristics are showing a bullishness we haven't seen since 2012: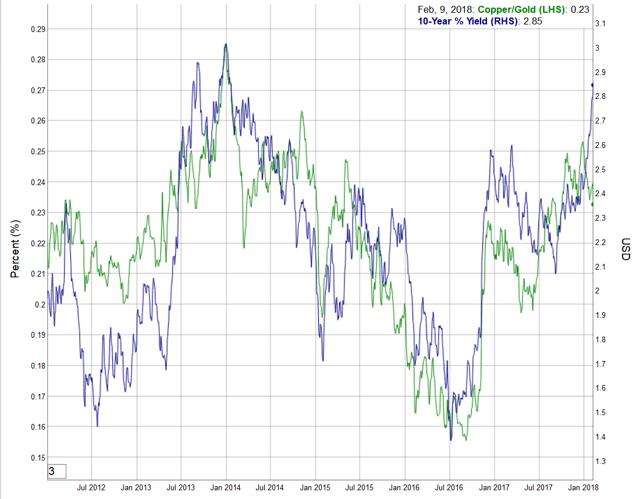 Because the copper-gold ratio is high while the 10-year Treasury Notes are rising, we have a situation reminiscent of Summer 2013. Investors sense inflation and rising rates. These important changes to the investing ecology take place during an expanding economy and thus are less likely to drive fear-based selloffs as they did in the Summer of 2015 (note the rising yield at that time and how it clashes with a falling copper-gold ratio; compare it to the current values in the chart).
Rising inflation and interest rates will cause selloffs in fixed-income vehicles. Yet banks should remain unscathed and actually profit from the increased margins that come with higher rates. Since 2015, I have been begging readers to buy Bank of America (BAC) because of its undervaluation, and now – in light of recent developments – investors are wondering if BAC is still worth a buy.
An article I posted in May marked the last time I ran an excess returns analysis of the stock. At the time, many analysts were calling BAC overvalued; I disagreed, insisting – correctly – that BAC still was on the incline. The target price I set – $26.01 – seemed questionable in light of analyst opinions and in light of a BAC trading at $22.57 and falling.
And then BAC surpassed my target price. The question now – as BAC trades at over $31 – is whether the stock is overvalued. In this article, I update my excess returns model to set a new price target for BAC.
Before we get to the model, however, let us first talk a bit about the financial sector. Finance as an industry, is in good shape, as you would expect when the economy is experiencing growth. Loan growth indicators, both coincident and leading, are bullish.
Raising interest rates will be a theme over the next couple years, as we finally have the economic support for the Fed to raise rates without causing panic like last time. Previously, economic growth was moot, making the feet of financial investors and analysts even colder than usual. Today, that growth is much less moot, and those feet are much less cold.
These market catalysts, industry catalysts, and sentiment catalysts are joined by rising earnings. Recently, financial companies have been beating earnings easily. EPS estimates have been beat in 82% of the cases in this sector, supporting the idea that this sector is on the move and supporting the long case for BAC.
Nevertheless, a fundamentally based valuation is important in determining whether now is too late to buy. I have nearly one full year of data to add to my model. My updated results appear below: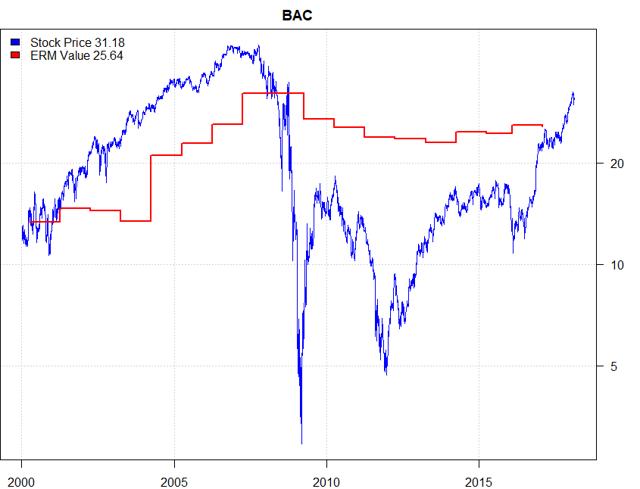 The price target has fallen, slightly. For practical reasons, we consider this a non-significant change. A significant change, however, appears in the stock price itself, which has risen too quickly, overshooting my current and previous price targets.
Will BAC fall to its valuation? It is not an easy question to answer, although a historically based answer would be a definitive "yes." The model has proved itself correct since its implementation when you consider both the trends and point estimates.
Point estimates have been crossed both times they predicted overestimations or underestimations. Prior to 2008, the model projected an upward price movement while simultaneously warning of overvaluation. The 2008 selloff forced BAC to cross the valuation/price target; the amount at which BAC dropped was off the wall, and the damage created by the 2008 financial crisis scared investors away from the sector for nearly a decade.
One reason I had been giving for BAC's undervaluation was a general state of fear, a wish to avoid the financial sector. Finance seems to have redeemed itself. My model was never scared, however, calling for a 20% drop, which is much less than the actual drop.
The model did not predict upward movement until 2014, however. And today, BAC's valuation is still less than its pre-2008 valuation. Now, we see the stock bouncing back up to pre-2008 levels, which is certainly misaligned with the valuation.
The fundamentals do not support a $30+ BAC. Arguably, some of that dollar value above the model's $26 is expectation-generated – hype for a return to a real positive rate economy. Until we see the rates bring real fundamental benefits to BAC via excess returns, however, I think the stock has gotten ahead of itself. I believe the current valuation, give or take a couple dollars, is correct and that the market will correct BAC shortly.
Realize that the basis is of this model and your investment in BAC should be an expectation of excess returns. If BAC cannot grow its excess returns (currently growth is slow), the price of the stock should not rise. As BAC management has been eyeing more buybacks and considering giving more excess capital back to investors, we might have topped off in excess returns, requiring changes to the company and/or economy before we can firmly state that BAC is on the incline.
For now, BAC is a good stock for investors looking in the financial sector for stable (not necessarily growing) excess returns. However, it is not quite worth $31 yet . I say to hold back and watch what a couple quarters of earnings brings, as rising rates, inflation, and stronger economic catalysts do not necessarily lead to higher excess returns in a financial stock.
Notes:
Note: Get my articles as soon as they are published by clicking the big orange "follow" button at the top of this page. Make sure you choose "real-time alerts." Trade alerts sent through "Copy My Trades."
Note on sources: All unlabeled figures are created by me. I use R to pull data directly from Quandl to perform analyses and create charts. Charts with blue backgrounds are from Etrade Pro. Fundamental graphics are from a paid subscription at simplywall.st.
Gap Trading
I built my trading career on gap trading. See this quick guide for 11 ways to trade gaps.
Upcoming Earnings Predictions
Exposing Earnings – click here for my earnings predictions.
Upcoming Earnings trades:
Cisco Systems (CSCO)
CenturyLink (CTL)
Applied Materials (AMAT)
Marathon Oil (MRO)
Barrick Gold (ABX)
Disclosure: I/we have no positions in any stocks mentioned, and no plans to initiate any positions within the next 72 hours.
I wrote this article myself, and it expresses my own opinions. I am not receiving compensation for it (other than from Seeking Alpha). I have no business relationship with any company whose stock is mentioned in this article.