Rethink Technology business briefs for June 23, 2017.
BlackBerry only avoids a loss because of the Qualcomm award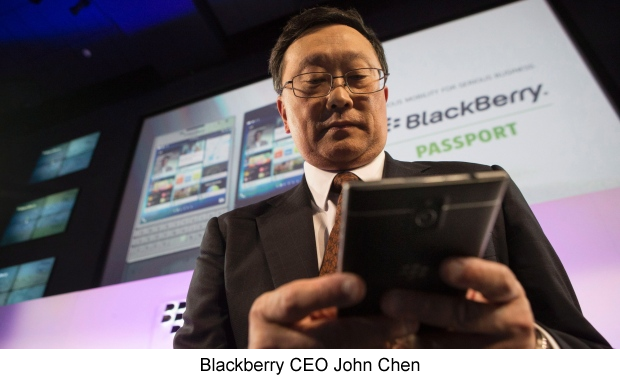 Source: CBC
BlackBerry's (NASDAQ:BBRY) GAAP revenue declined by 41% y/y to $235 million for its fiscal 2018 Q1 ending May 31. Basic operating expenses of R&D, SG&A, and amortization exceeded the gross profit by $61 million.
BlackBerry avoided having an operating loss through the accounting ploy of posting the Qualcomm (NASDAQ:QCOM) arbitration award as a negative operating expense. This allowed it to post a GAAP operating profit of $536 million. Combined with some investment income and negligible tax liability, net income was $671 million.
I would urge BlackBerry investors to enjoy the windfall while they can, except that BlackBerry investors were actually displeased with the results, and the stock fell 12%. This only shows how out of whack BlackBerry investor expectations have become.
My basic observation about BlackBerry is that it has become a "turnaround" stock that inexperienced investors hope will lead to fabulous returns. Yet the collapse of BlackBerry's handset business, which is still under way, has by no means been compensated by the growth in its software businesses or by licensing of the BlackBerry brand to TCL.
This can be seen in BlackBerry's breakdown of revenue by segment: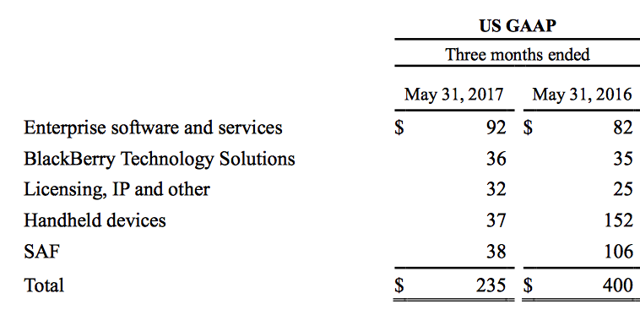 Handheld device revenue fell by 75%, but licensing only grew by 28%. The licensing of TCL of the BlackBerry brand has produced only an incremental revenue increase of at most $7 million. I regard the licensing of TCL to be a disaster for BlackBerry. The cheapening of the BlackBerry brand by slapping it on TCL's truly awful phones is not worth the revenue.
I've always conceded that BBRY does have potential in enterprise software, but the company faces much competition, and I thought that BlackBerry's fans simply had overestimated the growth that software would provide. Enterprise software and services grew only 12% y/y, and BlackBerry Technology Solutions, which is mainly QNX, grew hardly at all.
My basic thesis about BlackBerry remains unchanged. Investors have not accepted how small a company, in terms of revenue, BlackBerry is becoming as its hardware business goes to zero. This is reflected in the forward P/E of 107.89 (Yahoo Finance).
Nvidia has little in common with BlackBerry
The month began with high hopes for BlackBerry, as Citron Research posted a bullish paper "Could BlackBerry be the Next Nvidia?".
Nvidia (NASDAQ:NVDA) has very little in common with BlackBerry. For one thing, Nvidia is enormously profitable, posting net income of $507 million in its fiscal 2018 Q1, considerably larger than BlackBerry's total revenue.
And then there's the fact that Nvidia really is a thriving hardware technology company doing cutting-edge work in ARM processor and graphics processor design, machine learning, and autonomous vehicles. While BlackBerry talks about doing research in autonomous vehicles, Nvidia has already been doing it for years, and has the demonstration vehicles to prove it. As well as partnerships with Daimler AG (OTCPK:DDAIF), Audi (OTCPK:AUDVF), Toyota (NYSE:TM), and Bosch (OTC:BSWQY).
Citron calls QNX a potential game changer in autonomous driving. Not really. BlackBerry was very proud of the fact that its QNX operating system runs on Nvidia's Drive PX 2, and it announced it with great fanfare at CES this year. Nvidia was more than happy to have QNX on its platform as it is Linux. Nvidia wouldn't discourage QNX in this regard. But somehow, BlackBerry fans have gotten the impression that QNX is now a Player in autonomous vehicles. Nothing could be further from the truth. QNX by itself contributes nothing to solving the autonomous vehicle problem.
Whether QNX will become the preferred operating system for autonomous vehicles remains to be seen. Fellow SA contributor Paulo Santos has a very good discussion of QNX and Toyota's decision to adopt Automotive Grade Linux.
Citron argues that there's more to BlackBerry than QNX, and indeed there is, but then we knew that already, and we've seen the incremental growth in these areas.
I can already hear the fans screaming, but I'm ignoring BlackBerry's future growth potential in autonomous vehicles, IoT, etc. I assure them I'm not. What's typically lacking in all of these turnaround theses is actual quantitative analysis that projects what the actual growth will be. Instead there is typically a handwaving argument that is accepted uncritically by the fans because they want to believe it.
Rethink Technology filters the Nvidia noise
This month, there has been considerable noise surrounding Nvidia in the form of analyst commentary and subsequent market moves. Citigroup's Atif Malik raised his price target to $180 and speculated that it could go to $300. This was based on estimated datacenter sales of $30 B by 2020.
Shortly after, Citron posted a "white paper" in which it called Nvidia a "casino stock" predicting that the stock would "trade back to $130". These events and the market's reactions impelled me to write a report for my subscription service, Rethink Technology, in which I basically dismiss both events as "noise".
In the report, I included this observation by Jim Wyckoff, writing for Forbes:
One thing I eventually discovered from covering the same markets day after day, month after month, was that the vast majority of the time the vast majority of the markets' overall fundamental and technical situations did not change on a day-to-day basis. Yet, as a market reporter I was conditioned to write about why the market went up one day and why the market went down the next day, and so on…

As time went on and I came to better understand markets and market behavior, and as I studied specific trading strategies, I realized that the day-to-day market "noise" is not of much use to most traders and investors, and can even be detrimental to one's trading success…

What is important for the trader/investor is that he or she recognize and understand the overall price trend of the market and the general trend of the fundamental news that is potentially impacting that market or stock.
I also posted a point-by-point rebuttal of Citron for subscribers in which I examine his assertions regarding competitive pressures on Nvidia. I acknowledged that Nvidia has competition, but that this competition has to be carefully assessed. It doesn't constitute a sufficient argument against investing in a given company merely to assert that it has competition. Almost every technology company does.
I concluded that most of the instances of competition were not a meaningful threat. I continue to regard Nvidia as having several unique opportunities, in the datacenter, in autonomous vehicles, and in machine learning, that it will be able to exploit for considerable growth in the next five years.
In a concluding paper to the series, I presented a five-year DCF fair value calculation based on the following projected revenue profile for Nvidia: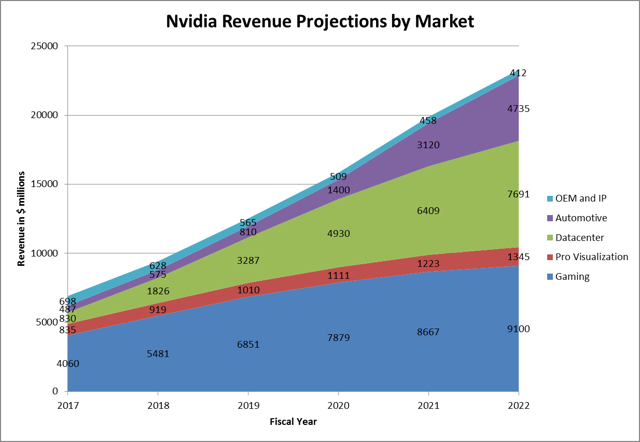 In my projections, I certainly don't expect that Nvidia will have $30 billion in revenue from the datacenter market by 2020. That number came from Nvidia's estimated datacenter TAM that was presented at its Investor Day. Despite conservative projections for datacenter and automotive growth, I nevertheless concluded that Nvidia's shares had a fair value of $173. More than the current valuation but less than Malik's $300.
Nvidia is part of the Rethink Technology portfolio and is a recommended buy. In Brian Bain's DIY Investing Summit, I describe in detail the investing philosophy and decision making behind the Rethink Technology portfolio. For a limited time, readers can hear the interview for free when the Summit goes live on June 27-28 by clicking this link.
Disclosure: I am/we are long NVDA.
I wrote this article myself, and it expresses my own opinions. I am not receiving compensation for it (other than from Seeking Alpha). I have no business relationship with any company whose stock is mentioned in this article.