As dawn broke in Madrid on Wednesday, Ana Botin embarked on the boldest move of her almost three-year tenure as chairman of Banco Santander SA, Spain's largest bank.
Botin, better known for accumulating capital and emphasizing internal growth than doing deals, took a page from her late father's playbook. She agreed to acquire failing Banco Popular Espanol SA for the knockdown price of 1 euro, while absorbing the 37 billion euros ($42 billion) of non-performing assets that laid its rival low.

The acquisition, which capped a tumultuous two weeks as regulators in Madrid and Frankfurt labored to rescue Popular, opened a new chapter for the scion of Spain's most influential banking dynasty. It showed that Botin may have a taste for the brinkmanship her father Emilio used to turn Santander into a force in global banking.
"Two years ago she said no more inorganic growth and now the bank is doing just that," said Angel Berges Lobera, a founding partner of AFI, a Madrid-based consulting firm, who follows the Spanish banking industry. "But if you find a good opportunity at your back door and it's cheap and you can do the government a favor then you don't let that go."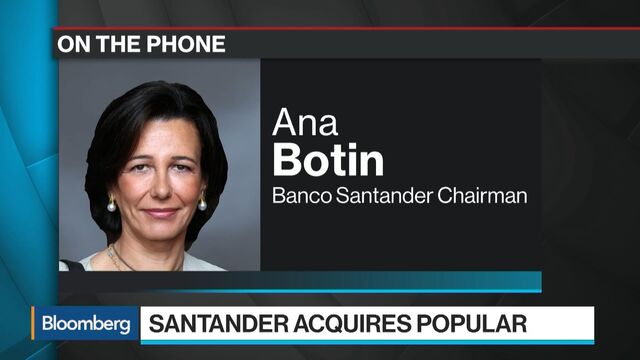 The acquisition brought Santander about 4 million customers and 34 billion euros in performing loans to small- and medium-sized companies, the type of high-margin business that Botin has pursued in her growth plan. The deal also makes Santander the undisputed champion in its home market, as measured by deposits and loans.
"This makes huge strategic sense," Botin, 56, told Bloomberg. "It complements our franchise in Spain and Portugal, and we will be the leading bank in Spain for small- and medium-sized companies with about 24 percent market share. And in Portugal it makes us the leading private bank."
Santander's shares rose 3.5 percent to 5.95 euros by noon on Thursday, after slipping 0.9 percent the day before, a positive reaction considering the bank plans to ask shareholders for 7 billion euros to bolster its capital buffers while taking on Popular and its bad debt.

Unlike some lenders that overextended themselves during Spain's runaway property market in the early 2000s and were bailed out, Popular refused state aid in 2012 despite a stress test that showed a capital shortfall. Even after tapping shareholders for funds three times over five years for a total of 5.5 billion euros in equity, mounting bad debt eventually overwhelmed the bank.
Popular's race for survival began on April 20, when Emilio Saracho, the newly appointed chairman, stood up at the annual meeting and delivered some bracing news: the bank needed more capital. That angered and alarmed investors and struck fear into depositors. Anticipating disaster, hedge funds such as Cliff Asness's AQR Capital Management LLC opened short positions on the stock.
Deal Hunting
As events were unfolding at Popular, Botin and her team had already been contemplating a bolder strategy. After raising capital upon taking the helm of Santander following her father's fatal heart attack in September 2014, Botin had made a break with his acquisitive ways and concentrated on improving efficiency and increasing revenue from existing businesses. 
Almost three years on, with the Spanish economy growing at a 3 percent annualized clip, her team had begun considering taking a run at Popular or Unicaja Banco SA, a closely held lender in Malaga, a port town on Spain's southern coast, according to people familiar with Santander's planning who aren't authorized to speak publicly. Unicaja had fewer risky assets than Popular, but the parties couldn't come to an agreement on price and the lender moved ahead with plans for an initial public offering, the people said.
A Santander spokeswoman wasn't immediately able to comment.
By May, Popular had hired JPMorgan Chase & Co. and Lazard Ltd. to advise on a potential deal, and Santander had brought on bankers from Citigroup Inc. Spanish lenders Banco Bilbao Vizcaya Argentaria SA and Bankia SA were also sizing up the bank.
Evaluating Popular
Botin said Santander was contacted a few weeks ago, along with other banks, to take a look at Popular. Her team "made a careful evaluation" of the lender, but decided not to make an offer at the time, she said in the interview.
Popular, an insular institution with reputed links to Opus Dei, the Roman Catholic group, was used to going its own way. But now its fate started to resemble another lender with a history of limping along -– Italy's Banca Monte dei Paschi Di Siena SpA. In December, Monte Paschi was unable to raise 5 billion euros in a stock sale and was eventually put into a precautionary recapitalization, a process in which a state injects funds into a troubled bank without triggering resolution.
Read more about Monte Paschi and Italy's banking woes
Saracho also sought more time to raise capital. But Spanish supervisors and their counterparts at the European Central Bank's Single Resolution Board in Frankfurt were losing patience. While Popular was holding a fire sale of assets to raise funds, it became clear the proceeds wouldn't be enough. 
Elke Koenig, chairman of the SRB, the entity in charge of winding down failing banks, told Bloomberg Television on May 23 that Banco Popular was one of the lenders the regulator was watching. As Popular's stock and bonds plunged and questions over its future grew, the bank began exploring options to bolster its liquidity, including more central bank loans.
Early Morning Call
Botin gathered a team of bankers, lawyers and other staff at Santander's headquarters on the weekend of May 27 and 28 to analyze the financial implications of taking over Popular, people with knowledge of the meeting said.  In the U.S. the following week, she spoke with Luis de Guindos, Spain's economy minister, on the sidelines of a meeting of the Bilderburg Club in Chantilly, Virginia. Around the same time, Prime Minister Mariano Rajoy asked Botin in a phone call to consider a purchase of the stricken bank, according to people familiar with the events of that week. By last Friday, Botin still hadn't announced her intentions.
On June 7, Popular executives were scheduled to meet with officials of the European Central Bank. Instead, the lender was informed that day that the situation was unsustainable.  "The resolution authorities, both European and Spanish, came to the conclusion that there was no viable private solution," Botin said. "They decided on intervention."
Santander was invited on Tuesday to participate in an auction for Popular, and learned around 6 a.m. the following day that it would be acquiring the bank, Botin said. She had been under "absolutely no pressure at all" from government or bank supervisory officials, she added. A press officer for Rajoy declined to comment.
Bear Stearns
Yet the rescue of Popular is reminiscent of JPMorgan CEO Jamie Dimon's decision in March 2008 to absorb Bear Stearns & Co., the venerable Wall Street investment bank crippled by subprime mortgage bets, at the behest of the Federal Reserve. While Popular didn't pose the systemic risk in Spain that Bear did in the U.S., the end game did cast Botin, who started her career at JPMorgan, in the same role as Dimon, at least for now.
In more practical terms, the deal imposes losses of about 3.3 billion euros on Popular stock and bondholders. With the equity offering to shore up Popular's balance sheet, Santander reckons it can cover the losses in the real estate book, sell half the portfolio within 18 months, and generate a return on investment of 13 percent to 14 percent by 2020. 
Read more on the how supervisors passed the test on Popular
The transaction also marked the first time the SRB used its authority to handle a major bank failure. That it did so rapidly and without knock-on effects for the rest of the euro zone's banking sector won plaudits from observers. But challenges remain, especially in Italy, where regulators and bankers are struggling to implement the euro area's resolution procedures to rescue troubled lenders such as Banca Popolare di Vicenza SpA and Veneto Banca SpA.
"In Spain the decision-making machinery worked the way it was intended, and this should put pressure on Italy to stop all its nonsense," said Nicolas Veron, an economist who specializes in banking supervision at Bruegel, the Brussels-based think tank.
As for Botin, she meets today with investors gathering in Madrid for a conference hosted by Goldman Sachs Group Inc. Two weeks ago it was to be routine event. Now it'll be anything but as she sketches out her plans for one of the biggest deals of her career.