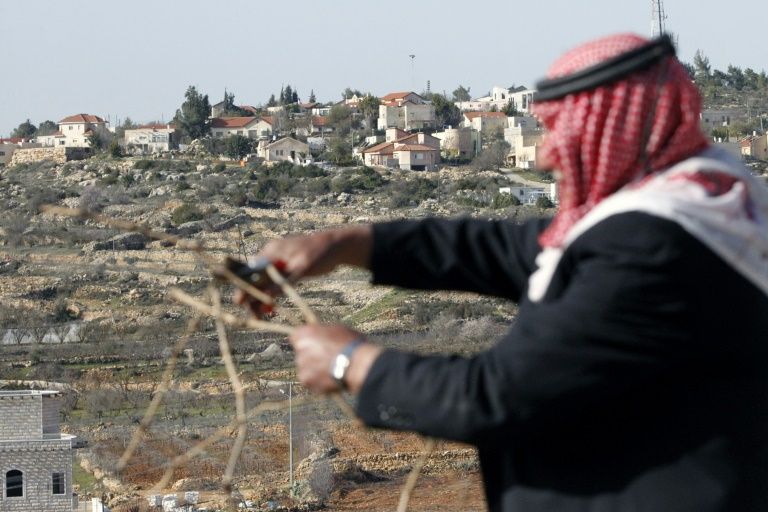 A Palestinian man prunes vines in the West Bank village of Beit Omar, with the Israeli settlement of Karmei Tzour seen in the background, on February 26, 2017
HAZEM BADER (AFP/File)
Planned construction does not keep up with natural growth among the population, settler leaders claim
Settler leaders say Israeli construction plans in the West Bank is insufficient, after the government announced plans to approve 2,600 homes on Friday.
The planned settlement expansion does not keep up with natural growth among the population, settler leaders claim. Even if all the plans were approved, it does not keep up with demand.
"Even this is too little," a spokesman from the settler Yesha council said to the Times of Israel, "compared to the growing need created by years of freezes on building, which has created a shortage of homes in Judea and Samaria," or the West Bank.
The civil administration – the branch of the Israeli army which administers the West Bank – is scheduled to meet next week to review and approve the settlement construction plans.
Such projects were put on hold for US President Donald Trump's visit to Israel and the West Bank last week, the Times of Israel reported.
Many of the proposed settlement plans are located outside the settlement blocs, or areas west of Israel's separation barrier.
Another settler leader, Yossi Dagan, head of the Samaria Regional Council, said that the limited construction plans were akin to a settlement freeze.
"We have again been informed that the prime minister has chosen to reject most of the construction requests of the Judea and Samaria communities," Dagan said, as quoted by the Times of Israel. "After eight years (of the Obama presidency) there are no more excuses."
Israeli Prime Minister Benjamin Netanyahu sits in a coalition with a number of settler leaders, and his government tepidly supports construction projects in the West Bank.
Israel militarily controls the West Bank and has yet to annex the territory. Most of the international community deems Israeli settlements to be illegal.
You need to be logged in in order to post comments. Sign up or log in
June 3, 2017 8:29 PM
So called "Palestinians" can go to Jordan or Gaza.
Why create problems in Israel?