First, if you believe that Bitcoin is a fraud, like Jamie Dimon, then you will not gain any value here. A fundamental assumption is that you are interested in putting money into Bitcoin, and other cryptocurrencies.
Second, if you are struggling to set up a cryptocurrency portfolio this article will provide you with a useful framework. You will have the ability to adjust your initial portfolio set up based on risk. You will also have a simple mechanism for rebalancing and future allocations.
Basic Funding Assumptions
This will be easy to follow with an example. Let's assume that we've got $50,000 in cash that we'd like to invest.
Next, let's assume that of that $50K, we'd like to invest some amount in cryptocurrencies. Furthermore, we'd like to choose a risk tolerance that works.
In the table below, let's take the $50K and assign Low, Medium and High Risk tolerance levels to the pile of cash.
| | | |
| --- | --- | --- |
| TOTAL CASH | | $50,000.00 |
| Low Risk | 10% | $5,000.00 |
| Medium Risk | 25% | $12,500.00 |
| High Risk | 50% | $25,000.00 |
So, with a Low Risk tolerance and $50K in cash, we're willing to invest $5K in total into cryptocurrencies. With Medium Risk, we're willing to invest $12.5K and with High Risk, we're willing to invest $25K out of the $50K total.
It goes without saying more that you can easily adjust these numbers to fit your own personal situation. The point is that we can put some value on Low, Medium and High Risk. We could easily at Ultra Low Risk and Ultra High Risk just as well.
Market Capitalization Guidance
To invest in cryptocurrencies you'll want to use a service, e.g., Coinbase. They've helped 10.5 million customers and they have support in 32 countries. In any event, they support three popular cryptocurrencies: Bitcoin, Ethereum and Litecoin. To keep things simple, we'll stick with those three because they are also widely traded and well supported.
Now, let's take a look at the market capitalizations of BTC (Bitcoin), ETH (Ethereum) and LTC (Litecoin). Here's a great view of that right now:

Source: CoinMarketCap
I've already done the back-of-the-napkin math for you. Here's how these three cryptocurrencies add up:
| | | |
| --- | --- | --- |
| BTC | $63B | 68% |
| ETH | $27B | 29% |
| LTC | $3B | 3% |
| | $93B | 100% |
Bitcoin is 68% of the total, ETH is 29% of the total, and Litecoin is 3% of the total, which totals to 100% of course.
Now we can use these market capitalizations as a basis for cash allocation, combined with risk tolerance.
Investment Allocation
As you can see below, I've created three allocation scenarios based on total available investment cash, risk tolerance, and market capitalization: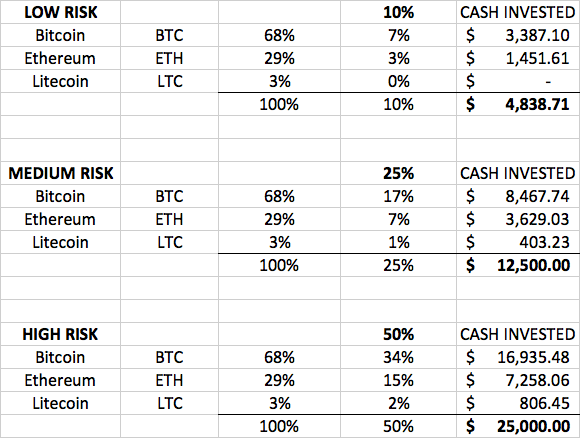 Let's look at one example to bring the data to life.
Assuming $50K total investment cash, and low risk tolerance, and BTC, ETH and LTC market cap allocations, we're looking at about $3.4K for BTC and $1.5K for ETH, and likely no investment in LTC. That's about $5K invested. In this case, it really wouldn't make much sense to invest in LTC.
Let's look at the other end of things to bring this home. Let's look at the high risk scenario.
Assuming $50K total investment cash, and high risk tolerance, and BTC, ETH and LTC market cap allocations, we're looking at about $17K for BTC and $7.2K for ETH, and $800 for LTC. That's about $25K invested.
Setting up a portfolio like this doesn't require exact investment dollars. As you can see, I'm rounding up and down a little bit to make the numbers easy to manage on paper and in my own mind.
Portfolio Adjustments
I'll keep this short and simple. If you want to be more active, you could adjust your portfolio perhaps once per week. You'd just allocate upwards and downwards to bring the BTC, ETH and LTC into balance based on market capitalizations.
You could also adjust your cryptocurrency portfolio once per month, or once per quarter. You could even adjust once per year but with the variance and volatility, that's probably too infrequent.
Additional Considerations
I'd like to point out that this isn't perfect but it provides a framework that is easy to understand. It also keeps risk at the level you are comfortable with, and it also gives you the ability to capture speculative gains as once currency runs a little hot and perhaps another a little cold. They do tend to fluctuate following the trends and news, and the variance can be extreme.
This approach shouldn't lull you into thinking you're investing in a traditional sense, or that you're properly allocating assets. Keeping it simple, this portfolio set up is most like a currency trading portfolio and it's built on a foundation of rational speculation. You're not getting dividends and your cryptocurrencies aren't creating new value for customers, for example. Instead, you're managing risk within a limited boundary but it's rational.
Wrap Up
It can be a challenge getting a cryptocurrency portfolio set up. What are some smart guidelines? How should I think about my allocations? What about my risk tolerance? How do I rebalance my portfolio?
This article provides you with a initial cryptocurrency portfolio set up that's simple to understand. Furthermore, the acceptance of risk and tolerance of risk into the future, based on market cap, is a reasonable and rational approach. This is especially true in the absence of any other guidance.
As a final reminder, investing in cryptocurrencies is much more like trading currencies and raw speculation, than it is like investing in a dividend paying stock. You make money buying and selling, and transaction costs are a true consideration if you adjust your portfolio. Therefore, you could set up your portfolio and they simply hold. That's a way to lower your cryptocurrency portfolio costs. Choose the path that is right for you and your capital.
Important News
If you appreciate cryptocurrency investment research then I encourage you to take a very close look at the Digital Coin Collective, my new service here on Seeking Alpha. We would love to welcome you into our home as a member.
Disclosure: I/we have no positions in any stocks mentioned, and no plans to initiate any positions within the next 72 hours.
I wrote this article myself, and it expresses my own opinions. I am not receiving compensation for it (other than from Seeking Alpha). I have no business relationship with any company whose stock is mentioned in this article.
Additional disclosure: We are long BTC and ETH.