Long-term investors in Rite Aid (RAD) have every right to be cynical that management can turn around the company and its shares after a decade of highs and lows, turnarounds and fumbles and acquisitions and divestitures. After losing more than $4 billion between 1999 and 2003 and doubling its share count, the company appeared to have relatively stabilized its operating performance, being able to cover its interest expense for four years.
And then management decided to make a large acquisition of a competitor in 2007. With this acquisition, the company issued 250 million new shares, took on another $2.3 billion in debt and once again put itself in the position of not being able to make interest payments with operating earnings. The company lost another $4 billion between 2008-2012 (not all cash losses) until operating income significantly improved in 2013 and beyond. As the company's operating profitability soared, shares increased from $1 in 2012 to nearly $9 in 2015.
In February 2015, as its income profile was as strong as it had been in its history, the company decided to take on more debt and issue more shares in order to acquire a pharmacy benefit management (PBM) business at a multiple that made it GAAP dilutive from day one and didn't work to bring down the company's leverage profile. In October 2015, as the EBITDA for its legacy business began to decline from increasing pharmaceutical pricing, Walgreens (NASDAQ:WBA) agreed to acquire the company for $9 per share.
This was the peak for Rite Aid shareholders as the Federal Trade Commission would drag their feet over the next twenty months, causing volatility for shareholders, a reduction in the purchase price from 9 to 6.50-7.00 in early 2017 and the ultimate decision for Walgreens to significantly scale back the purchase to less than half of the stores and not the PBM segment. This leaves Rite Aid with a growing PBM business, mostly greater geographic concentration in its store base and a greater EBITDA per store profile.
In summary, over nearly twenty years, here is a list of Rite Aid's achievements:
Nearly $7 billion in cumulative losses
A share count that quadrupled
A modest rise in debt
Sales increase of 160%
Significant growth in pre-tax, pre-charge, pre-interest expense income
(Millions $s)
1999
2000
2001
2002
2003
2004
2005
Sales
12,438
13,338
14,516
15,171
15,800
16,600
16,816

Operating Income

(before closures/impairments)

-138
-526
-50
50
285
402
486
Charges
253
55
585
423
122
55
58
Interest Expense
274
543
649
396
330
313
294
Pre-Tax Income
-665
-1,124
-1,284
-769
-167
34
134
Diluted Shares
258
259
314
474
515
525
634
Total Debt
5,922
6,612
5,894
4,056
3,862
3,891
3,311
(Millions $s)
2006
2007
2008
2009
2010
2011
2012
Sales
17,270
17,399
24,326
26,289
25,669
25,214
26,121

Operating Income

(before

closures/impairments)

385
348
271
40
221
235
261
Charges
65
56
95
2,145
185
233
125
Interest Expense
277
275
450
478
516
548
529
Pre-Tax Income
43
17
-274
-2,583
-480
-546
-393
Diluted Shares
677
525
724
841
880
883
886
Total Debt
3,051
3,100
5,985
6,011
6,370
6,219
6,328
(Millions $s)
2013
2014
2015
2016
2017
Sales
25,392
25,526
26,528
30,736
32,845

Operating Income

(before

closures/impairments)

717
762
880
816
531
Charges
195
88
57
89
51
Interest Expense
515
424
397
449
431
Pre-Tax Income
7
250
426
278
49
Diluted Shares
907
979
1,017
1,042
1,060
Total Debt
5,939
5,672
5,559
6,994
7,238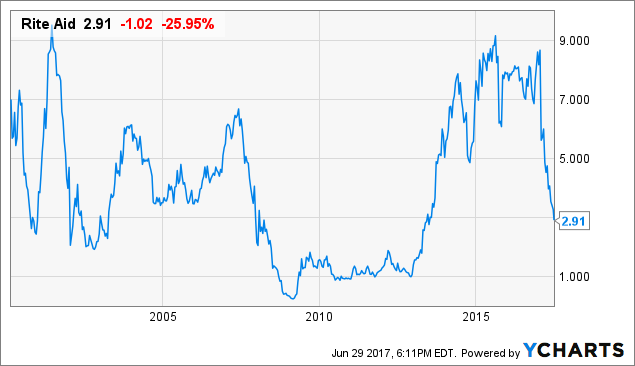 RAD data by YCharts
There is good reason for shareholders to be optimistic going forward. To begin, after twenty years of negative tangible book value, the company should be able to claim a tangible book value of between $2.8-3.3 billion or $2.67-3.05 per share, the range that the shares are currently trading at, after the new deal closes. This is subject, of course, to the working capital and assets and liabilities that are assigned to each store that Walgreens will purchase.
Management stated on the call that they would provide more detail on this item and more within a week. Almost all of the net tangible assets are held in the retail division. With that being considered, we can value pharmacy services on its own and add it to book value to arrive at a valuation. In 2015, the company purchased the division for $2 billion, at which point it posted $150 million-$160 million EBITDA.
Today, it is at a run rate of close to $200 million EBITDA. At the same time, there has been a 20% correction in the valuation of PBMs. With both of these factors considered, it is reasonable to maintain the valuation on the PBM of the $2 billion that the company purchased it for.
The company's trailing twelve-month EBITDA is $847 million. The company currently has 4,523 stores resulting in 187,265 EBITDA per store. The company is selling 2,186 stores. Management stated that the stores that they are maintaining produce greater EBITDA than the ones they are selling. Assuming that the stores they are divesting perform 10% worse than average and the stores that they are maintaining perform 10% better, the company's retail division should be left with approximately $480,000,000 of EBITDA.
In this calculation, I am assuming that the company's ten-year agreement for preferred prices on generic pharmaceuticals works to offset current weakness in the company's operations. Management also announced a restructuring that should reap some cost savings. Assuming an EBITDA multiple of 10x (average of CVS (NYSE:CVS) and Walgreens) the retail division is worth approximately $4.8 billion.
This analysis leaves us two ways to value the business. First, we can add the value of pharmacy services ($2 billion) to the company's tangible book value post deal ($3 billion) to arrive at a $5 billion valuation or $4.78 per share. Alternatively, we can add the value of pharmacy services ($2 billion) to the value of the stores ($4.8 billion) and subtract out the post deal net debt ($2.2 billion) to arrive at $4.6 billion or $4.38 per share. Both scenarios offer greater than 50% upside from the current share price.
There are multiple reasons that investors and analysts are not giving shares of Rite Aid any credit currently. First, even though this deal was announced, there is no guarantee that it is approved by the FTC. Second, as I exhibited at the start of the article, the company has a storied and hairy past. The company also put up a lackluster quarter with the announcement of the new deal. Investors cannot be sure of if/when momentum will be positive again for the company's retail performance.
And while pharmacy services continues to post positive earnings growth, the prospects of that business have been put into question by investigations into peer Express Scripts (NASDAQ:ESRX), as well as political discussions around drug pricing and each entities' responsibility for pricing along the supply chain.
The company is also likely suffering from a perception that Amazon (AMZN) will infiltrate and disrupt every store-front business, including pharmacy. Finally, while the company will be able to de-lever, it will still be sporting a Debt/EBITDA multiple of at least 3x. On a positive note, management reiterated its commitment to pay debt down on its most recent conference call.
All things being considered, today's price of roughly $2.70 per share looks to offer an attractive entry point for investors. The recent purchase of Staples (SPLS) by a private equity shop shows that there is still interest in the retail sector. Rite Aid management will have to work hard both to shore up the company's retail operations and to increase shareholder confidence. But at the current price, it looks like a fair deal of pessimism is already baked into shares.
Disclosure: I am/we are long RAD.
I wrote this article myself, and it expresses my own opinions. I am not receiving compensation for it (other than from Seeking Alpha). I have no business relationship with any company whose stock is mentioned in this article.