Macquarie: The Tale of the River Bank (Radio 4) | iPlayer
Hey, It's OK… (Glamour podcast)
The Red (Radio 4) | iPlayer
Not something I would naturally rush to hear, but Macquarie: The Tale of the River Bank is the must-listen of my week. I didn't think anyone made unflashy, meticulous documentaries like this any more. Financial journalist Michael Robinson began his report in a lovely part of the world, on the banks of the Thames in Little Marlow. He listened to locals telling him about a time, a few years ago, when the river was not so pretty. When brown foam rolled over the river ripples and tampons, sanitary towels, condoms and "large lumps of matter" clustered around houseboats. Why was this happening? Because Thames Water wasn't maintaining its sewage equipment properly. And why was that happening? Ah, well…
Over the next half-hour, in a clearly presented and diligently researched programme, Robinson showed how an Australian investment bank called Macquarie was able to buy Thames Water with borrowed money, offload £2bn of that debt on to Thames Water and make over-the-odds profits for its investors while not investing in the company's infrastructure (hence the polluted river). In March, Thames Water was fined £20m for huge sewage leaks. But by then, Macquarie had moved on, selling its final stake in Thames Water to – let me get this right – "a Canadian pension fund and the Kuwaiti sovereign wealth fund". Now Macquarie is backing a group of investors who recently bought a controlling stake in the National Grid's gas distribution business…
The voices in the programme – financial experts, watchdogs, journalists – were all reasonable. And they all said the same thing. Macquarie's structures were not transparent, money was moving through offshore subsidiaries and the UK watchdog, Ofwat, just waved everything through. "Bankers are always a few steps ahead," said one expert, pointing out that by the time a parliamentary inquiry has been conducted, the bankers have made their money and moved on to the next deal. All rather depressing, but well worth your time.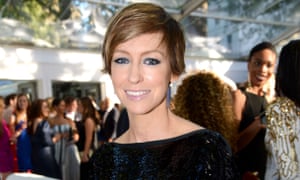 An altogether cheerier listen is Hey, It's OK…, Glamour magazine's podcast. One of my occasional guilty listening pleasures, it's essentially an interview-with-a-celeb show. Sounds familiar: but this is snappy and funny, with UK Glamour editor-in-chief, Jo Elvin, plus a staff member, leading the chat with charm and pizzazz. Last week the podcast celebrated its first birthday with an interview with the actor Jenna Coleman. Coleman was relaxed and amusing, gossiping about how she forgets how to dress in everyday life if she films for a long time and having a laugh about Doctor Who.
Glamour is always going to get high-end celebrities, but not everyone can make stars feel as comfortable as Elvin does, and surprisingly few editors make great presenters. A lovely, upbeat listen.
Another surprise was Marcus Brigstocke's first ever radio play. The Red had a simple premise – a wine collector father dies and leaves a special bottle of red to his son, a recovering alcoholic – but it was astutely written and nicely acted by Rufus Jones and David Calder. Touching and real; a lovely debut.