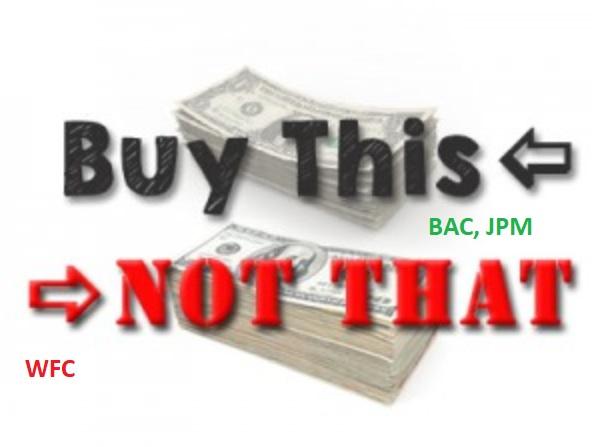 As a contrarian value focused investor, I'm more than willing to buy a beaten-down, hated stock if I believe that it's a fundamentally sound business with good growth prospects and a safe dividend.
After all, I've taken large positions in both Equifax (EFX) and Uniti Group (UNIT), two of Wall Street's most hated names right now.
Some readers have asked me whether Wells Fargo (WFC), having been plagued by numerous scandals over the past year, might not also represent an excellent "buy when others are fearful" opportunity.
While I certainly can understand the reasoning and the appeal of Wells Fargo (Buffett is the bank's single largest shareholder which places a big stamp of approval on the company), there are three main reasons why I have chosen to NOT invest in Wells Fargo, but instead continue to recommend two rival mega-banks, JPMorgan Chase (JPM) and Bank of America (BAC), both of which are on my buy list.
Let's take a closer look at why JPM and BAC represent excellent and likely superior long-term dividend growth investments, which should produce strong market-beating total returns, far better than WFC, which I consider a "hold" right now.
Wells Fargo's Scandals Are Affecting Its Growth Prospects
The essence of contrarian value investing is to determine whether "this time is really different." In other words, does a company's recent scandal or set back permanently impair its future growth prospects.
Wells Fargo's scandals, which first broke in Q3 of 2016, began with the Consumer Financial Protection Bureau fining it for opening around 2.1 million unauthorized accounts resulting in a $142 million legal settlement.
However, over the past year, further ugliness has come to light, including:
570,000 car loans inappropriately charged for unnecessary insurance. "For approximately 20,000 customers, the additional costs of the insurance could have contributed to a default that resulted in the repossession of their vehicle."
Wells Fargo Merchant Services overcharged small businesses for processing credit card fees through "deceptive language" in its 63 page contract.
An independent, third-party review of the bank revealed the total number of unauthorized accounts opened have been about 3.5 million, or 67% higher than earlier revealed.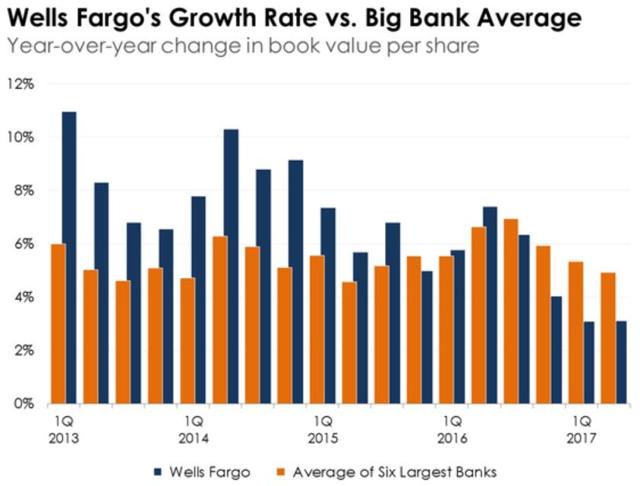 Source: Motley Fool
This seemingly never ending stream of outrageous violations of consumer and bank customer trust have indeed had an effect on Wells Fargo's business, as seen by the massive deceleration of its book value growth relative to its peers that are benefiting from rising interest rates and continued steady economic expansion.
Q2 2017 YoY Growth
| | | | |
| --- | --- | --- | --- |
| Metric | Wells Fargo | JPMorgan Chase | Bank Of America |
| Revenue | 0% | 4.5% | 11.9% |
| Net Income | 4.5% | 13.4% | 24.5% |
| Shares Outstanding | -1.6% | -1.9% | -2.1% |
| EPS | 5.9% | 17.4% | 27.8% |
| Dividend | 2.6% | 16.7% | 60% |
| Tangible Book Value Per Share | 4.4% | 6.1% | 6.4% |
Sources: Morningstar, Earnings Releases, Earnings Presentations
In fact, when we compare the actual growth rates of Wells Fargo to those of JPMorgan Chase and Bank of America, we find that they aren't even close.
While WFC is still able to grow its bottom line modestly, and its dividend by a token amount, JPM and BAC are thriving and likely to continue to benefit from the ongoing steady recovery, which shows no signs of coming to a stop anytime soon (probability of a recession in next three to four months is 2%, and in next nine less than 15%).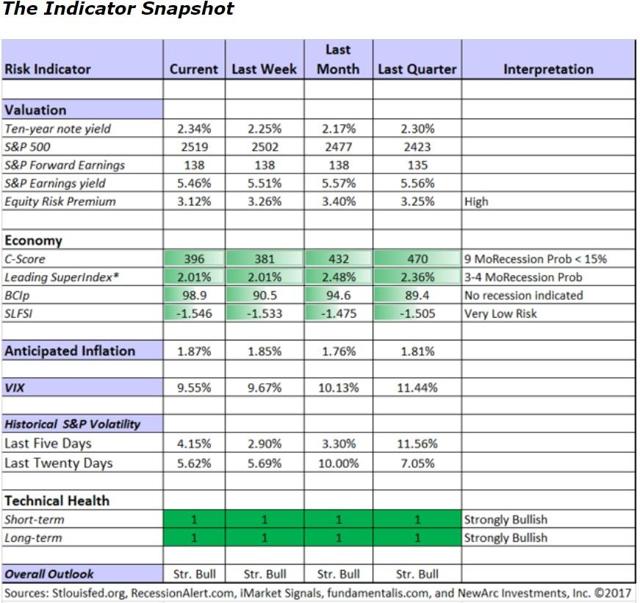 Source: Jeff Miller
But you may ask doesn't Wells Fargo's incredible history of conservative banking practices, which have allowed it to survive 12 banking crises, 27 recessions, three depressions, and two world wars over the past 165 years mean it's still a fundamentally better bank?
Actually I would argue that is no longer the case.
Wells Fargo Is No Longer America's Highest-Quality Bank
| | | | |
| --- | --- | --- | --- |
| Metric | Wells Fargo | JPMorgan Chase | Bank of America |
| Net Interest Margin | 2.90% | 2.31% | 2.34% |
| Return On Equity | 11.9% | 12.0% | 8.0% |
| Return On Assets | 1.2% | 1.1% | 0.93% |
| Efficiency Ratio (Cost/Sales) | 61% | 57% | 60% |
| CET1 (Fully Phased In Basel III) | 11.6% | 12.6% | 12.0% |
| Net Charge Off Ratio | .27% | 0.20% | 0.4% |
Source: Earnings Presentations
The notion that Wells Fargo is America's best big bank is based on several important assumptions including some of the lowest costs in the industry, superior profitability, and most of all, highly conservative underwriting and a bomb-proof balance sheet.
However, as you can see above, JPMorgan Chase actually beats Wells Fargo on four of the six most important bank quality/profitability/safety metrics, including a far better Basel III common equity tier 1 capital ratio, which is the gold standard of bank balance sheet safety metrics, and lower net charge-off ratio (loan losses).
And while true that Bank of America continues to lag behind in profitability, its stunning turnaround under CEO Brian Moynihan is helping it to quickly catch up to Wells Fargo on profitability and underwriting.
Meanwhile Bank of America's balance sheet is now actually slightly safer than Wells Fargo's, indicating very little risk of a repeat of the 2008-2009 financial crisis that nearly saw the bank destroyed by risky bets on mortgage bond derivatives.
Now in fairness to Wells Fargo, it's possible that it will retake the efficiency ratio crown from JPM and BAC in the next few years. After all, new CEO Tim Sloan has said that the bank plans to cut annual expenses by $4 billion by the end of 2019.
However, my concern is that the bank's revamped and far less aggressive (and very rightly so) cross-selling policies will mean that the industry-leading growth Wells Fargo has enjoyed in the past, courtesy of the industry's highest cross-sell ratio, will never return.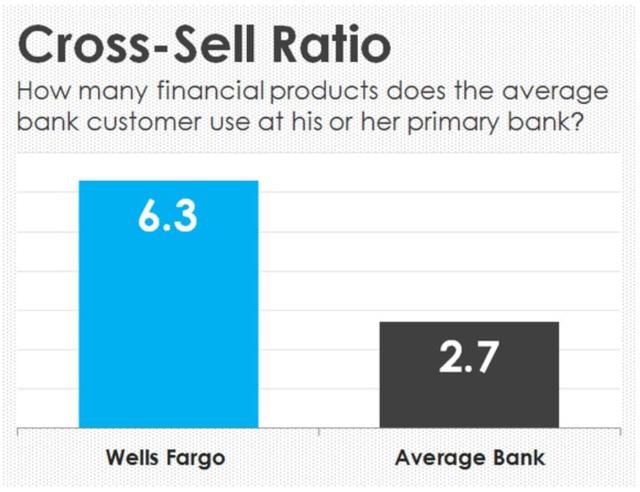 Sources: Wells Fargo, Wall Street Journal, Motley Fool
And in the meantime, Wells Fargo's other competitive advantage, its very low cost of deposit capital, has also been eclipsed by JPMorgan Chase and Bank of America.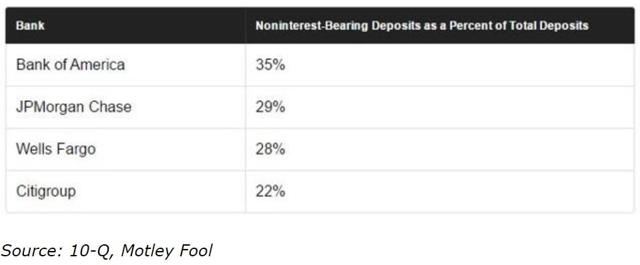 In other words, the very things that have helped to make Wells Fargo such a standout mega bank (industry-leading low costs, a sterling reputation for not being evil, and the industry's safest balance sheet) are either gone or no longer hold true.
This is why I consider JPMorgan Chase America's highest quality bank, and Bank of America the one with the best long-term growth prospects.
JPMorgan And Bank Of America Offer Far More Appealing Dividend Profiles
| | | | | |
| --- | --- | --- | --- | --- |
| Bank | Yield | TTM Forward Payout Ratio | 10 Year Projected Dividend Growth | 10 Year Potential Annual Total Return |
| Wells Fargo | 2.8% | 38.4% | 5.1% | 7.9% |
| JPMorgan Chase | 2.4% | 33.1% | 10.7% | 13.1% |
| Bank of America | 1.9% | 28.4% | 14.2% | 16.1% |
| S&P 500 | 1.9% | 39.5% | 5.9% | 9.1% |
Sources: GuruFocus, F.A.S.T. Graphs, Motley Fool, Morningstar, FactSet Research, Multpl.com, Moneychimp.com
While few people own any of these mega banks for their dividends, as a dividend growth investor, that is my primary concern. After all, market history teaches us that in the long term, total return generally follows the formula yield + dividend growth.
And while bank profits are likely to rise with interest rates, we can't forget that the amount of capital returned to investors as buybacks and dividends also requires annual approval by the Federal Reserve.
It now appears that the Fed wants dividend payout ratios to be around 30%, which puts a cap on the potential pace of payout growth in the future.
For Wells Fargo that's a big problem given that its payout ratio is the highest of these three banks, and likely means the slowest future pace of increases by far, and thus the worst potential total return. In fact, I expect Wells Fargo to underperform the market's historical (since 1871) 9.1% CAGR total return over the next decade.
On the other hand, JPM's and BAC's superior earnings growth potential and rock-solid balance sheets (which mean Fed approval of dividend increases is very likely) should allow both stocks' total returns to nicely trump both Wells Fargo and the market at large.
Valuation: Wells Fargo Is Actually The Least Undervalued Of The Group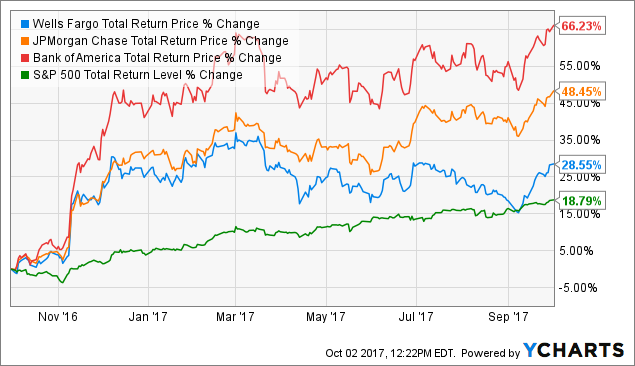 WFC Total Return Price data by YCharts
All three of these big banks, even the scandal laden Wells Fargo, have nicely crushed the S&P 500 over the past year, mostly due to optimism about rising interest rates and corporate tax cuts boosting profits.
Naturally this means that many investors now worry that all three are overvalued.
| | | | | |
| --- | --- | --- | --- | --- |
| Bank | P/TBV | Historical P/TBV | Yield | Historical Yield |
| Wells Fargo | 1.97 | 2.48 | 2.8% | 2.6% |
| JPMorgan Chase | 1.89 | 1.66 | 2.4% | 2.6% |
| Bank of America | 1.46 | 2.03 | 1.9% | 1.0% |
| Industry Median | 1.30 | NA | 2.6% | NA |
Source: GuruFocus
And that's understandable given that from a short-term perspective, Wells Fargo and JPMorgan Chase do appear to be fairly valued, at least when we compare their price/tangible book values, and yields to their respective historical norms.
Only Bank of America still appears to be trading at a discount from this perspective.
| | | | | | |
| --- | --- | --- | --- | --- | --- |
| Bank | TTM EPS | Projected 10 Year EPS Growth | Fair Value Estimate | Growth Baked Into Current Share Price | Margin Of Safety |
| Wells Fargo | $4.06 | 5.5% | $94.43 | -1.4% | 42% |
| JPMorgan Chase | $6.77 | 7.7% | $187.11 | -0.9% | 49% |
| Bank of America | $1.69 | 8.0% | $47.82 | 0% | 47% |
Sources: Morningstar, F.A.S.T. Graphs, GuruFocus
However, my preferred valuation method is to take a longer-term view, using a discounted EPS model, which uses a 9.0% discount rate and a 4% terminal growth rate.
The reason I chose 9% is because that is the approximate long-term post expense ratio annual return of a low-cost S&P 500 index ETF, which I consider the best default alternative to any individual stock. In other words, 9.0% is the opportunity cost of money.
Thus this model, with its assumptions, is my best estimate of the net present value of each bank's cumulative future EPS, and what I consider to be the best approximation of their intrinsic value.
And as you can see, despite the impressive rally of the past year, all three remain highly undervalued, with the market pricing in flat or even slightly negative future EPS.
I consider a wildly pessimistic view and thus consider all three banks excellent deep value dividend growth investments at this time. However, Wells Fargo, due to its slower growth prospects (directly caused by its scandals) is slightly less undervalued, making JPM and BAC the better choices for new money today.
Risks To Keep In Mind
While I am a big fan of JPMorgan Chase and Bank of America, and in fact plan to eventually own them myself, nonetheless there are several risks to keep in mind for all stocks.
Primarily that regulation since the financial crisis has justifiably been greatly increased, which has direct implications for dividend investors.
Specifically, that approximate 30% EPS payout ratio cap means that future payout growth will likely closely track earnings growth, and given that all banks are highly sensitive to economic conditions, this could be volatile.
Now, I am confident that even in the next recession, when interest rates are likely to fall to zero, and loan defaults will rise, all three banks will be able to maintain their dividends.
However, they will almost certainly be frozen for however long the economic and thus earnings recession lasts.
In other words, none of these big banks are likely to ever become dividend aristocrats, so if you want that kind of rock-solid annual payout growth certainty, look elsewhere.
Bottom Line: Wells Fargo Remains A Solid Bank, But Two Superior Rivals Deserve Your Investment Dollars More
Don't get me wrong, I'm not saying that Wells Fargo is a bad bank, despite the scandals, or that it's necessarily worth selling, especially if you have a very low cost basis.
After all, Wells Fargo is still growing, and will likely continue to do so, thanks to continued economic growth and rising interest rates. That's why Buffett will never sell, to avoid the capital gains taxes on his massively profitable WFC position.
However, when it comes to putting new money to work, while I consider all three banks still highly undervalued, Wells Fargo's deteriorating growth prospects in the face of a necessarily revamped cross-selling culture means that it's a far inferior investment compared to JPMorgan Chase and Bank of America.
That's in terms of both dividend growth and total return potential, which is why I plan to eventually add JPM and BAC to my EDDGE 3.0 portfolio, but not WFC.
Disclosure: I/we have no positions in any stocks mentioned, and no plans to initiate any positions within the next 72 hours.
I wrote this article myself, and it expresses my own opinions. I am not receiving compensation for it (other than from Seeking Alpha). I have no business relationship with any company whose stock is mentioned in this article.