U.K. Prime Minister Theresa May won public support from Brexit hardliners in her cabinet after she outlined contingency plans for leaving the European Union without a deal, upping the stakes in exit talks with the bloc.
Foreign Secretary Boris Johnson and Environment Secretary Michael Gove praised the premier after a day of barbed exchanges with the EU. May released two policy papers Monday and said she's made enough overtures to Brussels. The "ball is in their court," she said, to which the European Commission replied: "The ball is entirely in the U.K. court" for progress to be made so talks can proceed to agreeing a trade deal.

"While I believe it is profoundly in all our interests for negotiations to succeed, it is also our responsibility as a government to prepare for every eventuality," May told lawmakers. These white papers "support that work including setting out steps to minimize disruption for businesses and travelers."
Her intervention came at a sensitive time for the Brexit negotiations, with the fifth round of talks underway and progress limited just 18 months away from the deadline for leaving the bloc. Legislation will create a new "standalone" system for the U.K., and ensure value-added tax and excise laws continue to function if the country crashes out of the bloc without a deal, according to a government document on customs after Brexit.
'Full Control'
Johnson, who was accused of undermining the prime minister after he pressed her to take a harder line in negotiations, welcomed the announcement and urged lawmakers to rally behind her strategy. May was urged to fire Johnson at the weekend to assert her control over Brexit talks.
"What matters is the end state and our freedom to do things differently and better — and once again the PM sets out a powerful vision: out of customs union, out of single market, taking back full control," he said in a posting on Facebook. "She has reaffirmed the destination of a self-governing, free-trading, buccaneering and Global Britain taking back control over our laws, money, and borders."
Britain and the EU have until March 29, 2019 to negotiate a new deal but talks, which resumed in Brussels on Monday, have stalled over the question of how much the U.K. is willing to pay as it leaves.
May, who was making her first intervention since a disastrous Conservative Party conference, is walking a fine political line, trying to engineer momentum in Brexit talks while appeasing vocal anti-EU voices among her own lawmakers. She is also trying to reassert her authority after a dramatic week that put her job on the line and raised the prospects of a Cabinet shake-up.
Read more: Why EU Court of Justice is a Brexit battleground: QuickTake Q&A

In a speech in Florence last month, May created some goodwill with an offer to plug the gaps in the EU's budget created by Britain's departure and an assurance that the country will meet its wider financial obligations to the bloc. Her comments in Parliament rarely digressed from that script.
Jacob Rees-Mogg, an outspoken Euroskeptic, pushed her on whether the European Court of Justice would play a role in a "strictly-timed" transition period of around two years. It constitutes a red line for many pro-Brexit lawmakers like himself and Johnson, who caused trouble for May by repeatedly challenging her not to make concessions in her Brexit policy.
Her response confirms what she had only hinted at last month in Florence: "Yes, that may mean we will start off with the ECJ still governing the rules we're part of for that period," she said.
'Strong Statement'
Gove, who was one of the leaders of the Leave campaign in last year's referendum, tweeted that it was a "strong statement" and said colleagues should concentrate on the end result. "Let's be pragmatic over implementation to secure maximum freedom to diverge from EU in end state," he said.
May's government had come under criticism for not preparing for the no-deal scenario that businesses fear the most because it means that from one day to the next products could be held up in ports unless there is a plan in place.
The "contingency scenario" of failing to reach a deal will mean the U.K. sets up its own customs regime "from day one," the white paper said. The new system will include setting the U.K.'s own tariffs and quotas and establishing a system for the classification of goods, in line with World Trade Organization requirements.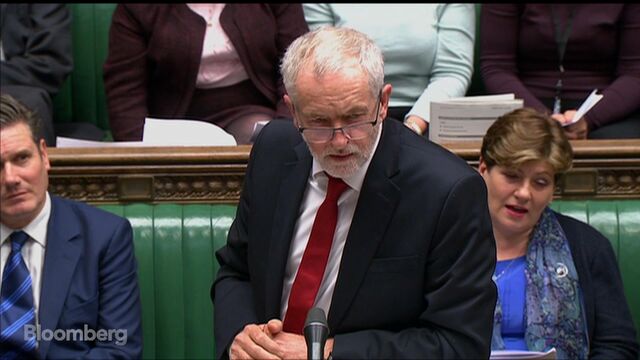 The U.K. would apply the same customs duty to every country with which it does not have a trade deal or otherwise provide preferential access to the U.K. market, such as schemes for developing countries, the document said.
Earlier in the day May met with a range of companies' executives from Nestle SA to Vodafone Plc to offer assurances about a period of implementation — they would prefer three years — and a stable regulatory environment to guide their investments.
That doesn't disguise the fact that fundamental disagreements remain on the scale of the U.K's financial settlement and the rights of citizens, raising the danger that May could walk away from the negotiations in part as a show of strength to quell her unruly Tory party. 
The latest round of Brexit negotiations will end Thursday and are the last before EU leaders discuss Brexit at a summit next week. While on the surface, talks appear stuck, May said she believed that discussions behind the scenes are "very often" more positive and productive than public statements suggest.
The EU said "sufficient progress" is needed on the separation issues. Those are: the financial settlement, citizens' rights and the Irish border. Only then can talks move on to a future trade deal.