When neither Kollias nor his teammate came home that morning, their respective roommates reported them missing. Campus police immediately took the reports seriously. Both players had reputations for quickly responding to text messages and phone calls. Police were especially concerned that their phones were off and their Find My iPhone apps disabled.
The University of Rochester denied Outside the Lines' request to interview campus police. But prosecutors say the campus officers did not immediately connect Smith's drug heist to the missing men. Instead, it was the teammate still living in the seventh-floor apartment, the one who didn't take the bait, who found the first critical clue linking the two crimes. He showed campus police the Facebook friend request he'd previously ignored from Samantha Hughes. When officers then scoured her Facebook page, they discovered Hughes was friends with one of the men injured in the hammer attack. Campus police reached out to Hughes, asking to meet up with her and ask her a few questions. After huddling with Rivera and Strickland about what to do, she agreed to a meeting that Saturday evening at a nearby Dunkin' Donuts. Not wanting to go alone, she brought Leah Gigliotti with her.
Hughes acknowledged to police that she had been with Kollias. She said they had been together at a party but that she'd left when she became sick from drinking too much. When pressed for an address, Hughes told the officers that she couldn't remember but offered to drive around with them to see whether she recognized the house. The cops took her up on the offer, but she led them to the opposite side of the river — far away from where Kollias and his teammate were actually being held.
Campus police let the women go.
---
That same day, Kollias says the masked men put a gun to his head and demanded he call his bank. In recordings obtained by Outside the Lines, Kollias asks a Charles Schwab customer service agent to help him transfer money to his checking account. When the agent responds that no money can be moved over the weekend, Kollias replies in a calm and steady voice, "I really need the money now." But the agent cannot help.
"My life was more important than any amount of money," Kollias now says. "I just wanted to survive."
In another call, Kollias asks, "There is no way I could get the $1,500 just transferred over to the debit card for withdrawal?" When the customer service agent tells Kollias they can't move money until Monday, he responds, "OK. Um, that's fine, I guess. I'll just call back on Monday." The customer service agent, unable to see the gun next to Kollias' head, tells him, "Have a great weekend."
As the evening wore on, tension was mounting among his captors. "We kind of got into a little argument about, like, why they weren't letting them go," Hughes later testified. Both Hughes and Gigliotti said Strickland took Rivera's plan for revenge beyond their expectations. Hughes and Gigliotti said that, at this point, even Rivera wanted to "ditch" Strickland.
After returning from their meeting with campus police, the two women grew increasingly worried about what they'd gotten themselves into. They'd later say that, originally, they thought Rivera and Strickland were just going to rough up the football players. Strickland particularly frightened them. "He called us b—-es," Hughes testified, adding that she became "scared of people that I loved getting in trouble, and I was scared for the safety of my family and myself."
Gigliotti put it more simply: "When you are high and drunk, you really don't care." She testified that she had only one real concern, that "Lydell was going to kill us if we told the police anything."
---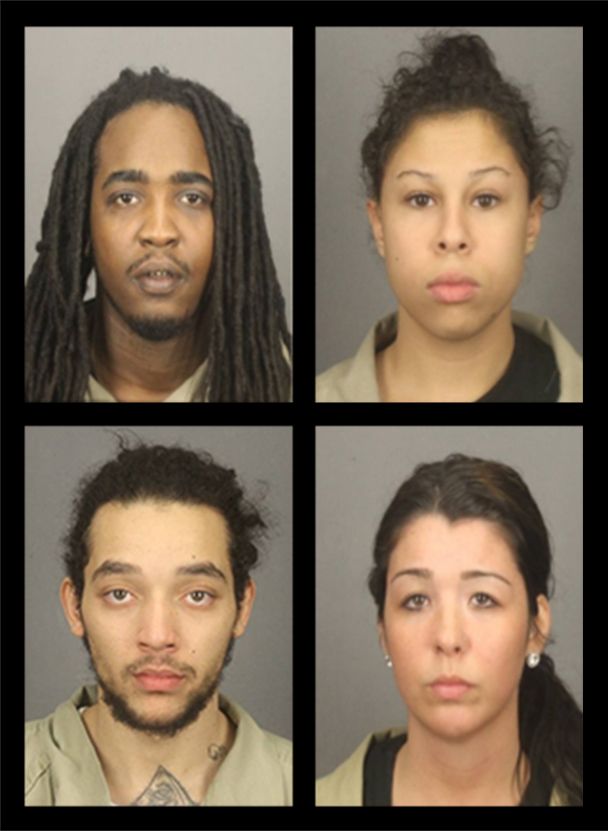 By Saturday night, campus police had turned over their investigation to the Rochester PD, a bigger force with more resources. City investigators spotted strange activity in Kollias' bank account — thousands of dollars were being withdrawn from ATMs. Surveillance video from an ATM less than a mile from where Kollias was being held would later show Gigliotti's blue Dodge Dart pulling up to the machine. In her testimony, Gigliotti said that she and Hughes were in the front seat, Strickland in the back. When he rolled down the car window to use Kollias' card, Strickland was wearing the same black and white skull mask he wore in the cellphone video. But then Strickland pulled the mask off, giving the ATM cameras a clear view of his face.
Strickland withdrew thousands of dollars before he went on a shopping spree that weekend, which included a $799 leather jacket, Timberland boots and a $27.99 pair of jeans from Marshalls.
Police Chief Michael Ciminelli, a Rochester native with 12 years of experience with the U.S. Drug Enforcement Administration, says he believes not being able to transfer money on the weekend might have saved Kollias' life. "There's no doubt the absolute intent was, once they got the money from that account, these kids would have been killed," Ciminelli says. "They certainly had no reason to keep them alive after that. And every reason to not keep them alive, frankly. It was now a race against time."
That night, the seventh-floor roommate who had ignored Hughes' Facebook messages reached out to Isaiah Smith, asking him whether he knew anything about what had happened to their teammates. Ciminelli says Smith then contacted his former drug suppliers and "offered them $15,000 to release" his teammates. "But they said, 'We don't want money; we want blood.'"
Detectives told Ciminelli about Smith's communications in the very early hours of Sunday morning. "Clearly this was an unusual situation that needed an immediate response," he says. He put all of the officers investigating the kidnapping and the hammer attack into the same room to share what they knew while simultaneously mobilizing his SWAT team. He also ordered anyone related to either crime to be pulled in for questioning, including Smith, Hughes and Gigliotti.
Smith didn't know much. But Hughes and Gigliotti were now facing police for the second time in as many days, and, after nearly 14 hours of interrogation, the two women started to crack. "As we are searching for these kids, there were hours and hours of lies, untruths, misleading statements," Ciminelli says. "Until finally, towards the end, we started getting some details which led us to 22 Harvest Street."
---
On Sunday morning, the masked men cranked up the music before entering the room where Kollias was being held. "Just came in extremely angry," Kollias remembers. "They start saying that I had been lying to them, and the cards weren't working anymore, and they couldn't get any more money. That's when they said they were going to kill us.
"They started shooting everywhere and putting the gun into our mouths and up to my skin and just shooting and pulling away at the last second. There were bullet casings flying everywhere. I'm not wearing a T-shirt, and all these casings are extremely hot, and we're just flailing and they're yelling at us to stay still."
Kollias remembers grabbing his teammate's hand and holding it. "I was pretty much fine with dying at that point."
Prosecutors say as many as nine people came and went from the house that weekend, some to drink and watch football, others to buy drugs. A few even went out to buy Kollias and his teammate food Sunday afternoon. But no one tried to help them escape. "I'm in very bad shape at this point. And I didn't know how much longer I could go," Kollias says.
Their captors had boarded up the windows, making it impossible to tell whether it was light out, but Kollias kept track of time by listening to the football games he could hear through the walls. "I can hear them watching the NFL games in the background," he says. Then, sometime after kickoff for Sunday night's game, a massive explosion rocked the house. "The entire house had shaken, and there was this huge flash of light," Kollias says. "I thought they were burning down the house."
The SWAT team had arrived.
Prosecutors allowed Outside the Lines to review sections of a recording from an officer's body camera. After blasting through the side door, about a dozen SWAT members rushed into the house. The officers quickly arrested at least two people who were watching over the football players. They found Kollias and his teammate in the bedroom, untied but badly injured. Kollias was unable to walk. Stepping over glass shattered in the explosion, SWAT members combed 22 Harvest, finding the plastic masks, the impromptu household items used during the bathroom attack and the bleach used to clean Kollias' blood. Other officers also found the rifle, hidden in the attic. They did not find, however, Strickland or Rivera. By this time, Rivera had bailed, leaving his friend who lived in the house to watch over the captives. And Strickland, who'd gone on his shopping spree, was holed up in a hotel. Both were arrested in the following days.
In the minutes after the raid, Ciminelli caught a look at Kollias and his teammate. "The one thing that stood out to me is the almost blank stare they both had on their faces," Ciminelli said. "I've been around a long time. I've seen a lot of things. This one is really in a class by itself in terms of the level of physical and psychological torture. It was as bad as a horror movie."
---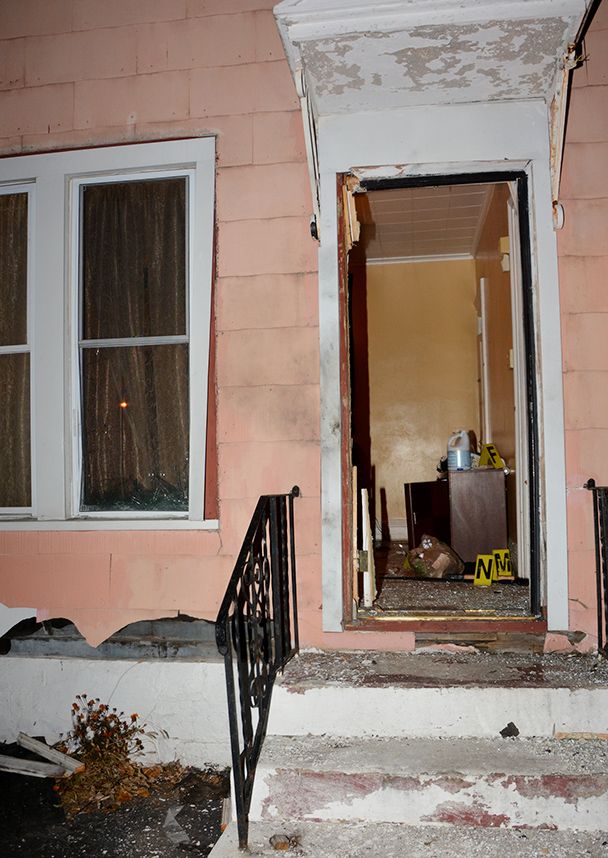 Nine people went to prison for the kidnapping and torture of Kollias and his teammate. Three were sentenced for watching over the captives and acting as lookouts. Samantha Hughes and Leah Gigliotti pleaded guilty and testified against the others. They were each sentenced to more than a dozen years in prison. Three of the four men in the cellphone video recording of the torture, including Elliot Rivera, also pleaded guilty and were sentenced to 35 years in prison. During Lydell Strickland's trial in December 2016, prosecutors described him as the "ringleader" and "mastermind" of the plot. He laughed when a judge sentenced him to 155 years in prison.
Three months later, in March, Isaiah Smith faced a judge for his role in orchestrating the drug robbery that started it all. Smith had already left school soon after his arrest, though the university will not say whether he withdrew or was expelled. At Smith's sentencing hearing, Judge Melchor E. Castro told the former linebacker, "I suppose you couldn't realize what events you set up when you did this." As the judge sentenced Smith to 13½ years in prison, he said, "This is all your fault."
Kollias says he believes none of this would have happened if the university had cracked down on Smith's earlier drug activities — and if the Division III coaches he played for weren't so blinded by Smith's football talent. Kollias is especially outraged by how Dan Kyle, the assistant coach, bailed Smith out of jail. Kyle, head coach Scott Greene and university President Joel Seligman all declined repeated requests for an interview. Instead, a university spokeswoman emailed a statement. "Isaiah Smith was a student in good standing up until his arrest," she wrote, explaining that the university, as a Division III school, is not required to drug test its players. She added: "No member of the administration, nor any coaches or University athletics staff members asked Dan Kyle to sign for Smith's release. This was an unusual occurrence."
Kyle no longer works at the university.
---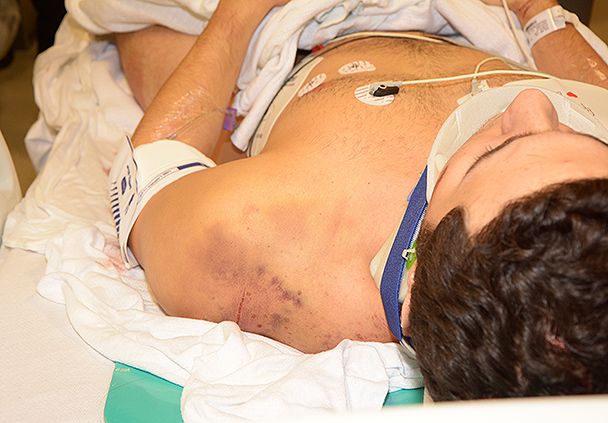 Kollias is finally starting to sleep again. "Nighttime and being alone are definitely harder things for me," he says. He often finds himself looking over his shoulder in his hometown of Chicago, where he is working in finance. As he was already a senior at the time of the attack, the University of Rochester allowed him to graduate without returning to campus.
"I had three or four blood transfusions," Kollias says. "They put a titanium rod through my femur, attaching it with screws in my knee and hip. They surgically removed glass from my eardrum and scalp and skull."
Determined to rehab his mind and his body, Kollias recently ran his first road race since the attack. Once a college athlete, he now struggles to finish 3.5 miles. His leg flies out at an odd angle with every step; his gait has a deep dip that wasn't there before.
He says the leg always hurts — all the way from his knee to his hip — but the pain is worth it. "I try and exercise as much as I can to keep my mind off the negative thoughts," Kollias says. "That's what really helps me cope with the negative energy, along with playing the piano."
Even though his football career is now over, Kollias still has the piano. He just released his first recording on iTunes. One of his favorite pieces is Beethoven's "Moonlight Sonata." It soothes him. As his fingers move over each key, his body visibly relaxes as he's transported away from the memories of what happened inside 22 Harvest Street. "I made the conscious decision to live, survive and overcome the challenge I was faced with," Kollias says. "And that's exactly what I did."