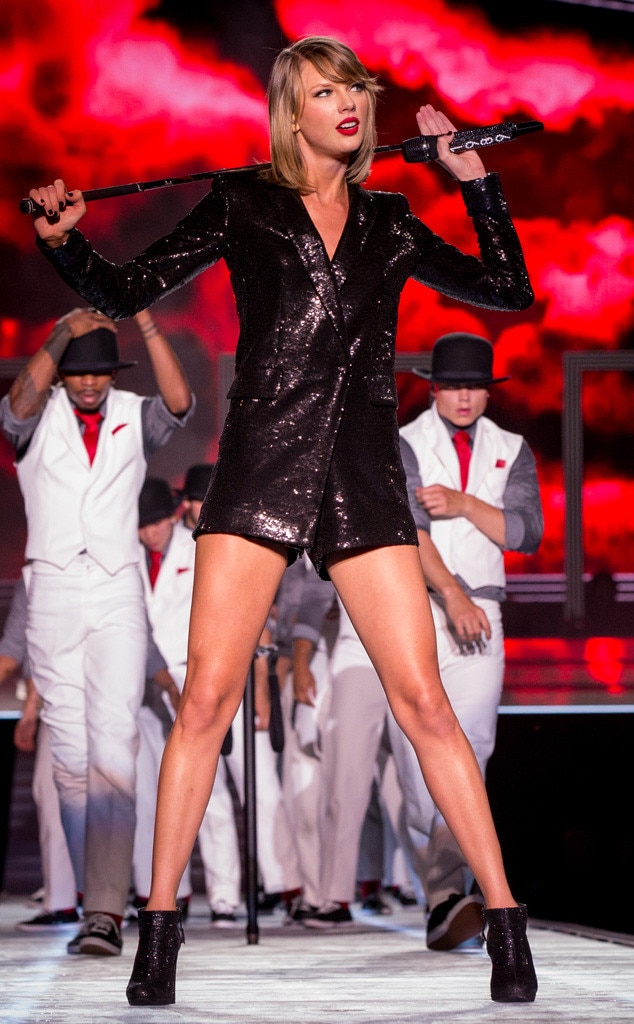 Christopher Polk/Getty Images
Nobody can predict the future, and these days nobody seems to be able to predict what Taylor Swift is going to do either. The past year of the singer's life has truly been a riddle wrapped in a mystery, from her marquee breakup to the "Famous" fiasco to her complete and total disappearance from the world's stage, and it's been especially difficult to follow. 
Yet despite the air of secrecy that surrounds her every private jet flight, social media blackout and possible transportation inside an industrial box, it's time to make some bold claims. Make that a claim wrapped in a suggestion: This Sunday's MTV Video Music Awards are going to be the perfect platform for her resurgence. 
First a look at the evidence. The rumor mill started swirling when it was announced late last month that Katy Perry would be hosting the VMAs. There is certainly no implication that wherever Perry goes, Swift has to follow, but inquiring minds simply had to wonder whether it was all setting the stage for an epic reveal.
The so-called feud had been ramping up this summer after a long dormant time—take, for example, the fact that Swift released all of her albums on Spotify right before Perry's new single was set to drop—so it only seems natural to fans (and the Internet at large) that the time is now. 
Taylor has a history of saving her biggest moments for the VMAs. The singer famously skipped last year's edition, but in 2015 she surprised audiences and viewers (and the entire world) by coming out during Nicki Minaj's performance. The two instantly squashed all the previous headlines over their rumored beef and the joint performance was the biggest moment of the night.
Taylor also presented her frenemy Kanye Westwith the Video Vanguard award, allowing her to make light of the "I'ma let you finish" fiasco and come out the bigger person. In 2014 the singer appeared at the VMAs fresh off the announcement of her marquee album 1989 and performed "Shake It Off" for the adoring crowds. 
The events of this past week have only bolstered this pattern and led to so much speculation. In perhaps the biggest musical news of the summer (the year?), the artist wiped all of her social media accounts, started off her clean slate with a cryptic video of a slithering snake, and then announced a brand new single to drop this morning right on the heels of Sunday's big show, as well as an album, "Reputation," due out this fall.
Now sure, it could be a total coincidence. Songs and albums always release on Fridays, and it would make sense that she wouldn't want to wait until next week and have her big news get lost in the Labor Day holiday. But the timing is just too particular. 
On a more logistical level, there is growing speculation from paparazzi agencies that she traveled from her home in Nashville to Los Angeles. The singer goes back and forth all the time, but again, it just seems too convenient to be a coincidence. 
So what exactly is going to go down on Sunday night? Our vote is for a little something like this: Perry introduces Swift, who is on hand to present an award. Her introduction includes a subtle peace offering and an acknowledgement that they've decided to put their bad blood behind them. Taylor then presents the award, graciously waits out the winner's acceptance speech, and then the stadium goes dark as the video for the new single debuts on a big screen. 
Is it exactly what fans want? Probably not. Fans are calling for a joint performance between Katy and Taylor, akin to what Nicki did two years ago. But that seems unlikely, both based on source information and also because it's highly unlikely that any artist could prepare a performance of a brand new single that quickly. Taylor has been away from music and performing in general for a long time, so she's going to want it to be perfect. 
But our imaginary scenario could be pretty great, too. Any appearance at the VMAs is a good move for Taylor, both because it's guaranteed to drum up buzz and also because it allows her to take even further steps towards reclaiming (or covering up) the memory of the Kanye West debacle in 2009. It's also the perfect way to bury the hatchet with Perry without being overly cheesy or having to fake a sentiment that just isn't there between the two singers. 
So what are we supposed to do until then? We put Spotify on repeat, of course.